Megan Mullally Is Taking Karen Walker To Broadway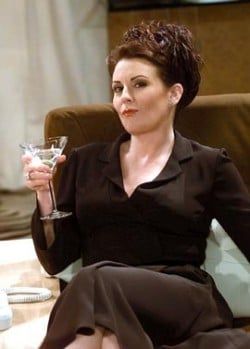 I'll be the first to admit that Karen Walker (Megan Mullally) was one of the main reasons to watch Will & Grace. Especially when it evolved into a turnstile of celebrity guests during those latter years. In fact, it became pretty widely established that it was Karen and Jack McFarland (Sean Hayes) that stole the show every week.
A lot of that was because they weren't the title characters. As supporting cast members they could be as outrageous as they wanted, and they always were. I'm not sure if it would have succeeded if it were Jack & Karen. It needed the grounding that Will (Eric McCormack) and Grace (Debra Messin) provided.
Which is why I'm a little worried when I read that Megan Mullally is taking the Karen Walker character to the stage. I have full faith in Mullally's abilities as a stage performer, it's more a concern that Karen: The Musical might not be able to sustain itself. Is she full developed and sympathetic enough? And how will she work without Will or Jack or Grace to bounce off of.
Mullally has secured the rights to the character from NBC, and has backing from Fox Theatricals to move forward with the project, so at this point it's a matter of when and not if. On Will & Grace, Mullally brought a lot to the role of Karen throughout the eight-year span she played the character, but the character was ultimately someone else's. This time, it would be her show and so the vision of who Karen Walker is will fall fully on Mullally's lap.
While there's no word on any of the other three main characters showing up, her diminutive rival Beverley Leslie (Leslie Jordan) is already on board. Now she just needs to find a writer to bring her most famous role to life once again. Hey, I can do snotty rich woman ... just write everything that's not me.
Your Daily Blend of Entertainment News