Michael J. Fox Is Returning To The Good Wife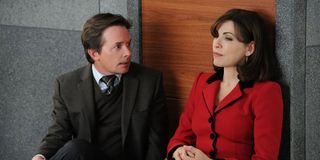 NBC's Thursday night comedy lineup has been tanking this season, but it took until this morning for the network to yank The Michael J. Fox Show from the lineup. However, there's a silver lining to this morning's news. Effectively (though not officially) cancelling The Michael J. Fox Show helped CBS to feel comfortable enough to announce Fox's return to The Good Wife, where he will reprise his role as one of Alicia Florrick's rivals.
During the last several seasons of The Good Wife, Fox has appeared on the drama as Louis Canning, the head of a New York City law firm who is kind of a trickster. He and Alicia have frequently opposed one another—even back in the days when she frequently rocked out her signature red suit—and during one memorable moment, the attorney even offered her a position with his firm. Typically Canning's appearances have been guest stints, and while he has occasionally popped up more than once during a season, the gigs have not been multi-episode arcs. However, according to TV Line, the network has lined the actor up for multiple episodes at the end of Season 5.
Word on the street hinted that Fox might be returning to the series even before The Michael J. Fox Show was effectively cancelled. People involved with the show are spoiler savvy and are obviously staying mum about why Canning will make an appearance for multiple episodes, but I can guess that he might be a hungry shark circling around Florrick & Agos, or maybe even wanting to partner up with Lockhart & Gardner, excuse me, I mean LG. We do know that LG has been moving forward with an expansion to New York, which might also cause problems for Canning's firm. I can try all day to anticipate where the show's writers are going, but I'm just as often surprised when the show actually airs.
The Good Wife is currently taking a brief break from CBS' schedule, but is expected to return in March, presumably to avoid losing eyeball traffic due to the Olympics. It's a good thing I like the Olympics, or I would be very displeased by this outcome. Since the gig is described as a "season-ender", it could be some time before Fox shows back up on CBS' drama. In the meantime, fans might still be able to get their M.J. Fox fix on NBC. The network has pulled the show from its Thursday night lineup, but the network also made the mistake of picking up the series for a full 22-episode order. Production wrapped on the comedy at the end of last year, and I'll bet those suckers make their way onto the air at some point, possibly on random weekend nights. We'll definitely have to wait for the Olympics to air before that happens, though.
The Good Wife will return to the schedule on Sunday, March 9 at 9 p.m. ET. In the meantime, you can catch up on episodes over at CBS' site.
Amazing Race & Top Chef superfan with a pinch of Disney fairy dust thrown in. If you've created a rom-com I've probably watched it.