Michael Strahan Reported To Be New Live! Co-Host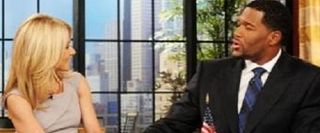 Well, so much for waiting until the season premiere of Live! With Kelly on September 4th to reveal her new co-host. Word is out that one of Kelly's many guest hosts who have sat in Regis' chair since he left the show in November will be taking up permanent residence there after Labor Day.
Former NFL star turned TV personality Michael Strahan is the new co-host of Live! according to a Deadline report. He's quite comfortable in the co-hosting chair as he has already taken a seat there 15 times during the past months. It had been previously reported that the show would be revealing the new co-host on the season premiere, but it seems the word is out early. As of September 4th, it seems we will be watching Live! With Kelly & Michael.
Strahan won't be giving up his other gig, working weekends serving as the Fox NFL Sunday host. That makes him bi-coastal in his employment, since he will have to spend the week in New York for Live and then the weekends in Los Angeles for the NFL hosting job. It's certainly one quick way to rack up those frequent flyer miles. Not that flying for free is much of an issue for someone pulling in salaries on two big television hosting jobs.
There have been a string of co-hosts come through the Live set since Philbin said goodbye, and plenty of speculation as to who would be the one to take the spot for good. The selection of Strahan is a bit of a surprise, but he does seem to have the whole hosting thing down, and he's an interesting contrast to Kelly Ripa.
Your Daily Blend of Entertainment News
Thank you for signing up to CinemaBlend. You will receive a verification email shortly.
There was a problem. Please refresh the page and try again.