Milch Pairs With HBO For Ninth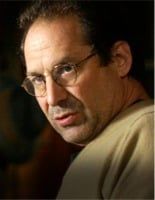 Hang onto your polyester pantsuits, because 1972 is coming back. This time, on HBO in the form of a new drama pilot by David Milch.
Fresh off Deadwood and John From Cincinnati, Milch's Last of the Ninth will take him back to his NYPD Blue roots. The show will be set in 1972's New York.
"It is about an older detective's mentoring of a young detective returned from Vietnam in a department fiscally crippled, under attack by revolutionaries, and which has been brought by allegations of systemic corruption into public disrepute," Milch says in a Hollywood Reporter story.
He co-wrote the drama with fellow NYPD Blue executive producer Bill Clark, who was a former New York homicide detective. The duo wrote the pilot before the writers strike and will executive produce the show after the strike is settled.
This is the first development from Milch's new deal with HBO, which he signed this past August. He's won a slew of awards, including four primetime Emmys.
But the question on everyone's mind is: Will Deadwood have a proper send-off?
Your Daily Blend of Entertainment News