The Millers Review: CBS Comedy Maximizes Its Potential With Seasoned Actors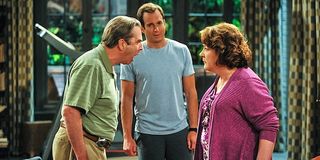 The Millers isn't the most tightly written new comedy of the season or even the most modern. It's shot with multiple cameras, and it's not opposed to going for the obvious joke. There's nothing about it that screams brilliant, but beneath the mediocre premise, it's oddly likeable. In fact, every single minute of the pilot might be more enjoyable than the one that precedes it, which sounds about right given its creator/ showrunner.
In the past, Greg Garcia has given us such comedies as My Name Is Earl and Raising Hope. Both involved larger than life characters often engaged in shenanigans that seem really stupid at first glance but are oddly clever upon further review. One episode into The Millers, it seems like we're all in for more of the same, and thankfully, Garcia has assembled a cast that can truly deliver.
The basic premise follows a television reporter named Jack (Will Arnett) whose entire life is upended when his visiting parents discover he divorced, and they impulsively decide to do the same thing. The mother (Margo Martindale) moves in with him, and the father (Beau Bridges) moves in with their daughter/ Jack's sister Debbie (Jayma Mays) and her husband Adam (Nelson Franklin). Neither of the siblings is very happy about the situation, but unwilling to deal with conflict head on, they both make the best out of it.
If nothing else, The Millers is an essay on why finding actors that have real talent and real chemistry is so important. Arnett is the type who has a tendency to monopolize the action on screen. He's a bit larger than life during his best and worst moments, but both Bridges and Martindale are more than capable of holding their own alongside him. They offer real shoveback and can steal a scene at any given moment. Consequently, it doesn't feel like the Arnett show. It feels like a truly family comedy, especially considering both Mays and Franklin are particularly great at playing bewildered, runover and taken advantage of.
There are plenty of recently premiered shows that will create more buzz than The Millers. This isn't the type of show many people will feel the need to discuss around the water cooler, but it is the type that leaves a viewer with a smile firmly planted on his or her face throughout the runtime. Moving forward, each episode should offer a perfect blend of goofiness, comedy and sweetness, all wrapped up in an easy to digest thirty minute package. Will it be worth cancelling plans for? Probably not, but for most people, it will more than be worth a Season Pass on the DVR.
With the right co-stars and the right creator, there's every reason to think this is the non-Arrested Development comedy that will finally work for Arnett.
The Millers airs Thursday nights on CBS at 8:30 EST/ PST.
Enthusiastic about Clue, case-of-the-week mysteries, the NBA and cookies at Disney World. Less enthusiastic about the pricing structure of cable, loud noises and Tuesdays.