Mira Sorvino To Star In Trooper Pilot Again, This Time At TNT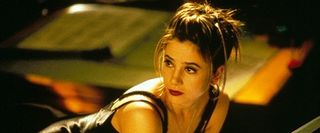 Mira Sorvino is back on track for her first regular role starring in a TV drama. Oscar winner Sorvino has signed on to play the lead role in the TNT pilot for Trooper, a drama about a mother who becomes a New York State Trooper. This is the second time Sorvino has been cast in the very same role, this time at a new network.
Last season CBS had her tapped to play the same role in the same project. The network wound up passing on it, but TNT decided it was worth a shot and gave it a pilot greenlight last month. It seems they agree with CBS on one thing regarding Trooper, and that is Mira Sorvino. TV Line says she has signed on to play the role once again for TNT's incarnation of the pilot.
Sorvino will play KJ Flaxton, a mother of three who is recently divorced. She applies the same unconventional approach to her job that she uses as a parent. She'll no doubt clash with her partner, a by-the-book widower who was to be played by Jay Hernandez when CBS had the project. Hernandez went on to a role in ABC's Last Resort, and there's currently no word as to who TNT might be looking at to take the male lead.
Mira Sorvino has spent most of her career in features, and took home the Best Supporting Actress Oscar for Mighty Aphrodite in 1996. She's made a few guest appearances on TV over the years including Will & Grace and House. Although she's been working steadily, I lost track of her after she hit the height of her fame in the 90s. This project sounds like a good fit for her, and TNT may be the better home for it in the end.
Your Daily Blend of Entertainment News