Mira Sorvino In Talks To Star In CBS Drama Pilot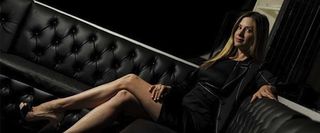 Most of Mira Sorvino's work exists on the big screen, with a handful of TV roles scattered throughout her career. However, that may be changing as the Academy Award winning actress is in talks to play the lead in a drama pilot for CBS.
Deadline posted the news, stating that Sorvino is in final negotiations for the starring role in the Jerry Bruckheimer produced drama pilot Trooper. The project follows a woman named KJ Flaxton (Sorvino), who is described as "a common-sense mother-turned-New York state trooper."
As Deadline notes, Sorvino's been approached for pilots in the past, however, assuming the negotiations wrap up with Sorvino locked in to star, this will be her first starring role in a TV pilot. She does, however, have a number of TV credits under her belt, including an appearance on House, and Will & Grace, as well as a few TV movies over the years.
While Sorvino won an Oscar (and was nominated for a BAFTA) for Mighty Aphrodite, and has appeared in numerous films since, I'll admit that I usually associate her with playing Lisa Kudrow's BFF in Romy and Michele's High School Reunion. ?I also tend to confuse her name with Mena Suvari, who, as it happens, is also set to star in a pilot this season.