Modern Family Watch: Strangers On A Treadmill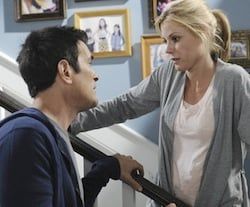 Anyone faced with the challenge of delivering a negative critique on their partner's appearance or behavior knows it's not always as simple as blurting the words out. Whether it's informing them that their jokes aren't funny or that the male camel-toe will never be in fashion, brutal truth can be…well… brutal.
Philling In
In preparation for a hosting gig for a big local realtors convention, Phil shared some of his lame and inappropriate jokes with Claire in an effort to get her honest opinion so he could fine-tune them. Whether it was roasting a fellow real estate agent for being old or commenting on woman's ample "balloon payments," the jokes weren't only bad but borderline offensive. Of course, Claire wanted to tell this to Phil but she didn't know how without hurting his feelings.
Mitch was going through a similar ordeal as Cam insisted on leaving the house in his biker shorts on a regular basis. Is it true that no one looks good in biker shorts? They were in fashion once but as I recall, they were worn under a shorter pair of shorts. The actual package-display (which was hilariously mosaic'ed out every time we got a frontal of Cam in his tonight) was hidden under a pair of shredded denim cutoffs. See the earlier years of Beverly Hills, 90210 for an example of that. I'm sure you'll find at least one.
The closest I could find to anyone pulling off the plain-old-biker shorts look is this photo of Matthew McConaughey from a few years ago and it looks as though he has some sort of cod-piece thing under it to protect (or conceal) his business. Plus, he also has that headband and the shaggy beard to divert people's attention from the fashion statement he's making with the shorts.
Mitch couldn't tell Cameron that his biker-shorts were awful any more than Claire could tell Phil his jokes were bad, so after sharing their mutual relationship woes, the siblings decided to recreate the plot of Hitchcock's Strangers on a Train, except instead of murdering each others' partners, they just broke the bad news to the one's partner. While Claire went through with telling Cam that he shouldn't be wearing the shorts, which made him run to the bedroom and cry, Mitchell chickened out of telling Phil his jokes were bad.
In the end, Claire had to hide Phil's cards before he took the stage to do his speech. And as it turned out, she needn't have bothered. Apparently, Phil's fellow realtors love rude and/or lame jokes. They laughed like he was the funniest man on earth instead of a realtor with a list full of silly puns. Later Phil revealed to Claire that he knew she hid his cards and he was appreciative of her efforts. Phil seemed too pleased with the reception of his jokes to be bothered that Claire tried to sabotage him. He knew she meant well and it all worked out in the end.
Cameron finding out that Mitchell was the one behind Claire criticizing his bike shorts didn't go over as well and Cam admitted he didn't like Mitch's beard. This resulted in Mitchell shaving off part of his beard before Cam stopped him and the two reconciled. The best laugh during that final scene was when Cam asked Mitch to do his shoulders. He meant a massage but Mitch, holding the razor and shaving cream, misunderstood the request. Cam stalked off, most likely headed to the bedroom to have a good cry and think about getting his back waxed.
"I think you're really gonna hit it off with Que!"
Gloria and Jay's dispute this week erupted when Gloria reminded Jay that one of his employee's daughter's quinceanera was coming up. As Jay's usual response to employee functions is to send some Omaha Steaks (which is actually a pretty delicious gift option if you ask me), he waved the whole thing off until Gloria called him out for being elitist toward his subordinates. He decided to show her up by taking them all to the party and proving what a man of the people he is.
They arrived at the banquet hall and Jay was apparently so unfamiliar with his employees that he didn't even realize he was at the wrong party. While the quinceanera was taking place in another ballroom, Jay wandered around pretending to know people at the engagement party he and Gloria were accidentally crashing so that he could prove his wife wrong. Gloria figured out they were at the wrong party but allowed Frank to make a fool of himself, pay the tab on the bar and give a speech before stepping in. She only intervened after Jay angrily objected when the couple to be married started groping each other on the dance floor. As he thought they were father and daughter, his outrage was to be expected, but it wasn't appreciated.
Finally, Haley and Alex had a little sister-bonding experience when Alex somehow stumbled upon a bit of social acceptance. Some popular girl named Mackenzie was paying Alex attention. At first Haley, needing to be involved in (in control of) the situation tried to step in to give her sister tips on how to act indifferent and non-desperate in order to maintain the new friendship. Alex picked up on the technique beautifully… then she took it too far, ended up shouting that she loved the girl and the momentary bubble of potential popularity (or at the very least, friendship) burst. Poor Alex was left to turn to her mother for support as she resumed her friendless existence.
Bonus: Did anyone catch Cam and Mitch's kiss? It resulted in Cam getting shaving cream on his chin and getting all blushy and smiley. It was a quick, sweet kiss that happened so fast and naturally, I didn't even notice it right away, much like their first on-screen (in the background) smooch.
Kelly joined CinemaBlend as a freelance TV news writer in 2006 and went on to serve as the site's TV Editor before moving over to other roles on the site. At present, she's an Assistant Managing Editor who spends much of her time brainstorming and editing feature content on the site.
Your Daily Blend of Entertainment News
Thank you for signing up to CinemaBlend. You will receive a verification email shortly.
There was a problem. Please refresh the page and try again.