Montage of Heck's Director Overruled Kurt Cobain's Loved Ones, Kept The Heroin Use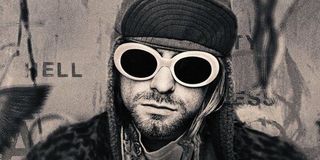 The inventive documentary about Nirvana's late frontman, Kurt Cobain: Montage of Heck is proving to be a surreal, yet intimate portrait of the gone-too-soon alternative rock legend wielding a bold level of bluntness. Cobain's addiction to heroin was always well-documented, even in his lifetime. However, the depicted footage of home movies yielded some particularly disturbing moments during the height of his vice. Apparently, at least one such moment was included by the director against the wishes of Cobain's family and friends.
In an interview with EW, the Oscar-winning director behind the Montage of Heck documentary, Brett Morgen discusses one scene in particular involving a starkly lit Cobain looking gross, gaunt and completely high on heroin while handling his infant daughter, Francis Bean. While the film was made with the direct blessing of Cobain's family, it seems that Morgen's inclusion of this particular footage became a point of contention. As Morgen explains:
The scene in question shows a moment with Cobain, despondent, drifting in and out of consciousness, as he is called over from an impromptu nap to witness a key moment in his young daughter's life as his wife, Courtney Love, armed with shears, gives Frances her first haircut. However, a family moment that would be typically touching is marred by Kurt's horrifying appearance and his attempts at playfulness come across erratic as he holds the infant, making bizarre rantings while in a clear drug-induced daze. For fans who hold the late rocker in esteem, it proved hard to watch. For friends and family, it probably felt like a posthumous kick to the ribs. However, lest the wrong impression be made of Morgen, he did ultimately manage to quell the understandable objections of Cobain's friends and family regarding the scene's inclusion.
It seems that the film's potential for prevention of substance abuse proved to be the convincing factor. Cobain was apparently quite embarrassed by his heroin addiction, and it was one of the few aspects of his increasingly transparent life that he wanted to keep hidden. Morgen even recounts a story told by Cobain's sister, Kim in which Kurt, offstage at a Paris concert, was handed a foil of heroin from a 14-year-old fan. The moment seemed to encapsulate much of the regret that consistently clouded his experience as a rock star; knowing that his life habits would be detrimentally influencing young fans. Thus, when it came to the question of what Kurt would have wanted, it seems that serving as an anti-heroin poster boy was an acceptable outcome.
In fact Morgen, who got to know Kurt Cobain's profile through the filmmaking process, believes that Kurt would have rather saved lives than be a hit star.
He even anecdotally recounts an interaction with a fan at the Sundance Film Festival who confessed that seeing Cobain's struggles in their full raw, unfiltered ugliness served as inspiration for hanging-up her own heroin habit. It's an intriguing aspect to this documentary project, which can be seen on HBO and its streaming services, where you can decide for yourself on its tastefulness.
Your Daily Blend of Entertainment News