Jack Black's Student Film From High School Is Everything You'd Hope For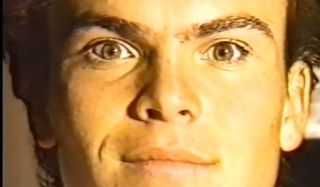 Jack Black is one of those individuals that you simply assume was born a movie star. It's just impossible to imagine him living a normal life and not flaunting his stuff and playing up to a camera. But, of course, like everyone else Jack Black had to hone his craft and spent several years developing his on-screen persona before he hit it big in Hollywood. And now early footage of Jack Black starring in a student film in the 1980s has emerged and it showcases the raw energy that has epitomized the comedian throughout his career.
First things first: it turns out that Jack Black was a stone-cold fox during his years at Crossroads School in Santa Monica, California. While he's mostly known now for being slightly rotund but still a national treasure, Black is stick-thin in Too Far From Norm, which was shot back in 1987 by director Brett Morgen.
Too Far From The Norm, which premiered over on HitFix, places Jack Black front and center, as his character Rick rudely interrupts his teacher, who is giving an impassioned lecture on post-modernism, and then even shoots him in the face. After his murderous activities, the film then divulges into a music video that sees Jack Black performing directly to the character in the exuberant, intense, musically tinged, and free-spirited fashion that we've come to know and love.
In all honesty, Too Far From The Norm is pretty much like every other student film that you've ever seen. It's very rough around the edges, filled with amateur performances (an extra even looks directly into the camera at one point), and its intriguing idea is somewhat overwhelmed with ineptitude. However, what manages to eclipse all of that is Jack Black's eminent and undeniable screen presence, and he just eats up the screen.
As we are all now aware, Jack Black would go on to become one of the most beloved comedy actors of his generation, which was kick-started with his breakout performance in 2000's High Fidelity opposite John Cusack. He has since followed this up with starring roles in Shallow Hal, School Of Rock, Tropic Thunder, Bernie and Kung Fu Panda, while he's also been nominated for two Golden Globes and is the lead vocalist with Tenacious D too.
But Brett Morgen's career hasn't been too shabby too. In fact, the Oscar-nominated documentary filmmaker is currently causing quite a stir with his latest project Kurt Cobain: Montage Of Heck, which provides an unfiltered, intimate and heart-breaking look at the Nirvana front-man. Kurt Cobain: Montage Of Heck premiered on HBO on Monday night, while Jack Black will next be seen in The D Train, which will hit screens this week.
Your Daily Blend of Entertainment News