Mystery Science Theater 3000 Has A New Host, Get The Details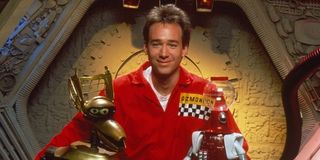 Brace yourself, people, the Satellite of Love is ready for another orbit. The geniuses behind Mystery Science Theater 3000 are getting ready to thrill us (finally) with another round of ridiculous movies and even more ridiculous human/robot banter.
Ever since the continuation was announced through a Kickstarter campaign, fans have been wondering if creator Joel Hodgson would board ship again for another go round as everyone's favorite B-movie commentator. And now we know that his input will more than likely be a strictly behind the scenes proposition. The creative brain behind MST3K has appointed Jonah Ray as the new high flying space janitor.
Jonah Ray is an actor, writer and comedian who is one of the three hosts of The Nerdist Podcast, along with Chris Hardwick and Matt Mira. Joel Hodgson met Ray when he was interviewed by the podcast about three years ago. They talked about MST3K, and Hodgson could tell that the hosts knew about the show and were true fans of it. Ray and Hodgson went on to hang out after the podcast, which led to him asking Ray to write jokes with him for an awards show.
According to Hodgson, the "flow" that resulted from working with Ray, led him to eventually ask if he wanted to be the next host on MST3K if Hodgson was ever able to get the show back off the ground. Ray said yes, and now the plan looks like it will be coming to fruition.
The original incarnation of Mystery Science Theater 3000 ran for ten years across four different channels. It became a popular, flagship show for the newly created Comedy Central channel during its 1991-1996 seasons. The show focused on Joel (Hodgson), a janitor who was shot into space by two mad scientists, Dr. Clayton Forrester (Trace Beaulieu) and Dr. Laurence Erhardt (Josh Weinstein). The scientists want to see how much bad movie watching will drive a person crazy, so Joel is forced to watch B-movies. His only companions are three sentient robots that he's managed to create, Tom Servo, Crow and Gypsy.
The audience watches as the quartet sits through some of the cheesiest films ever made, and comments on the sheer insanity of what they see. Some of the brave cinematic turkeys on display in the show were Santa Claus Conquers the Martians, Teenagers from Outer Space, The Robot vs. The Aztec Mummy, Women of the Prehistoric Planet, Hercules Against the Moon Men and Viking Women and the Sea Serpent.
Fans of the show will be nervous about this change, as they were when Joel was replaced by Mike (Michael J. Nelson) as the host of the show. While that change lasted from 1993 until the show ended in 1999, many lovers of MST3K never quite recovered from the switch. But, there's one thing all those looking forward to this return need to remember. Joel Hodgson picked Jonah Ray himself. And he wouldn't hand his creation over to just anybody.
Yennefer's apprentice, Gilmore Girl; will Vulcan nerve pinch pretty much anyone if prompted with cheese...Yes, even Jamie Fraser.
Your Daily Blend of Entertainment News
Thank you for signing up to CinemaBlend. You will receive a verification email shortly.
There was a problem. Please refresh the page and try again.