NBC's Parks And Recreation Casts The Original Tammy, Ron Swanson's Mom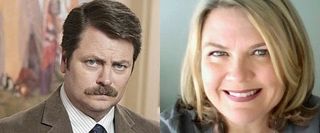 Holy Ron Swanson. The man from Parks and Recreation knows what he likes and he doesn't stray too far from his 'All-American' comfort zones. He really likes his meat red and in large portions. He likes his government small and ineffectual, which is why he works for there. He's a simple man with a simple mustache. He also likes his women named Tammy. We've met his ex-wife Tammy 2, we know the actress playing his first ex-wife Tammy 1, but now, we found out about Tammy 0. Like I said, holy Ron Swanson.
Nick Offerman, the insanely talented and funny actor who plays Swanson, one of my favorite characters on any series, is married to Tammy 2's Megan Mullally in real life and the episodes where she cameos are nothing short of hysterical. All you need to see to understand the kind of man Tammy 2 brings out of the usually stoic Swanson is this photo.
Only a few weeks ago, we learned that they cast Patricia Clarkson to play Tammy 1, the original and even scarier ex-wife. Even the batshit crazy Tammy 2 is scared of Tammy 1 so what kind of woman can we expect out of the Swanson matriarch Tammy 0? We don't know just yet but one thing is for certain, we know who'll be playing the role.
TVLine announced that longtime SNL writer and occasional 30 Rock guest star (she plays Pete's wife) Paula Pell will play Mom Tammy. All three Tammys are supposed to mix it up in the same early Season Four episode(s) so that should make for some pretty exciting days in Pawnee, especially if you're Ron Swanson. But if any man can handle it, it's him. "Give me all the bacon and eggs you have..."
Parks and Recreation returns on September 22 at 8:30 p.m. ET on NBC. To those that gave up (or never tried) I really recommend giving this series a shot, as it's developed into one of the finer comedies after what was a painfully bland and off-putting first season.
Your Daily Blend of Entertainment News