NBC's The Sing-Off Gives A Cappella More Mainstream Exposure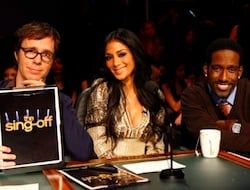 I'm not an expert on a cappella music. In fact, if I were being completely honest, I'd say that until recently, I wasn't even all that much of an a cappella enthusiast, however thanks to the musical style popping up on TV more and more, I'm developing a real appreciation for it, which is why I'm really looking forward to Season 2 of The Sing-Off.
Like many others, I watched The Sing-Off last December when the brief series premiered and was reminded each episode by host Nick Lachey (formerly of 98 Degrees) that a cappella means just voices, no instruments. The series features various voices-only singing groups as they compete against each other. My reason for tuning in last year was less about the music style as it was Ben Folds being among the judges. Folds is one of my favorite musicians and having seen him perform a few times over the last few years, one of my favorite parts of his concerts is when he includes the audience in the songs.
While the video below isn't technically a cappella, since it includes instruments, it does emphasize the use of voices to substitute instruments. As Ben Folds' album version of "Army" includes a horn section, which typically isn't present at his performances, he borrows the audience's voices. You'll see that in the video below, however I don't think it compares to how incredible the effect works live.
Folds does something similar when he performs "Not The Same," a song about a guy who tripped out on acid at a party and became a born-again Christian. The audience sings back up for the "Ahh's" in the song. You'll hear them come in just after the one-minute mark.
In addition to continuing to record new albums, Ben Folds also produced an album last year featuring various college a cappella groups performing his songs, called "Ben Folds Presents University a Cappella." It's definitely worth checking out.
Ben Folds isn't the only Sing-Off judge with some hands-on experience with a cappella. Judge Shawn Stockman of Boyz II Men would certainly know a thing or two about the singing style. Boyz II Men has often performed some of their songs sans instruments. There were plenty of songs to choose from when scouring Youtube, but I decided to go with one of their performances of "Hard to Say Goodbye To Yesterday."
In case you didn't catch last season of Sing-Off, Here's a video of the winning group "Nota" performing "Down" on the show. They had a number of great performances but I think this one was their best.
While NBC is celebrating a cappella with The Sing-Off, the style is something of a joke on the network's comedy series The Office. Andy once serenaded Angela with a rendition of "Take a Chance On Me" while his buddies backed him up with vocals over the speaker-phone. He often brags about his days in the all-voices singing group "Here Comes Treble," of which he was a part of at Cornell (ever heard of Cornell? Yeah. Andy went there). In the video below, he pitched an a cappella version of "You Can Call Me Al" for Jim and Pam's wedding song.
Glee's been dabbling in a cappella a bit recently with the Dalton Warblers performances. In addition to last night's "Hey Soul Sister" performance, the group also performed a voices-only take on Katy Perry's "Teenage Dream" that showcases a cappella and how well it works with modern music.
A cappella seems to be up and coming and The Sing-Off is definitely worth checking out for any music fans out there. If you haven't seen it, here's the full opening number for the Season 2 premiere.
The Sing-Off premieres Monday, December 6, 2010 at 8:00 p.m EST (airs Mondays and Wednesdays, Dec. 6, 8, 13 & 15 at 8-10 p.m. ET; Live Finale: Monday, Dec. 20 at 8-10 p.m. ET) on NBC.