NBC's Who Do You Think You Are Procures A Season 3 Lineup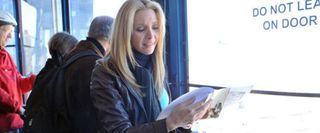 Going through a family's genealogy can be as touching as finding out one contestant is related to another contestant on a reality show, as happened on Top Chef between All Stars' Mike and Antonia. Or, it can be as strange and ridiculous as finding out a member of a family once lived next door to – gasp! – the Wright Brothers, an idea introduced in an Ancestry.com ad. Genealogy is kind of becoming an absurdly trendy topic among certain demographics, ushered along by NBC's Who Do You Think You Are?
NBC, in partnership with Shed Media, will introduce audiences to the family histories of a new set of celebrities when Who Do You Think You Are? returns for its third season in February. If you haven't caught the show, the premise is pretty simple: each week a new celebrity will go on a journey to trace his or her roots. Though most often a celebrity will travel around the United States, in the past, contestants have sometimes trotted around the globe to get to the bottom of their genealogy. The show is an adaption of the British television program of the same name.
Maybe Lisa Kudrow's producing credits give the series some serious celebrity clout and maybe people are just excited about learning a little history, but, Season 3's lineup for Who Do You Think You Are? looks pretty spectacular. Jerome Bettis, Paula Deen, Edie Falco, Helen Hunt, Rashida Jones, Rob Lowe, Reba McEntire, Martin Sheen, Jason Sudeikis, Marisa Tomei, Blair Underwood, and Rita Wilson are all on the schedule for the upcoming season, which will air through the spring. It would be totally overkill to tell you who I'm most excited for, suffice to say her name begins with the letter M.
You can check out the full press release over at NBC's site. While you are at it, check out TV Blend's full list of midseason premieres.
Who Do You Think You Are? will reappear on NBC's schedule on February 3 at 8 p.m. ET.
Your Daily Blend of Entertainment News
Thank you for signing up to CinemaBlend. You will receive a verification email shortly.
There was a problem. Please refresh the page and try again.