Nancy Grace Is Coming To Give You Swift Justice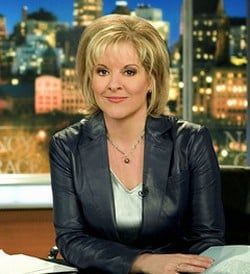 You know how Oprah Winfrey has that way of making you feel warm and welcome all the time. With her show now coming to an end in less than two years, it's time to look for what can replace the long-running queen of daytime. Could it be -- Nancy Grace?
Yeah, uh, no. But she is heading your way whether you have cable or not. Why should we who pay for television be the only ones subjected to her soothing and kind words on her self-titled show on HLN. It's not fair of us to hoard her for ourselves. Nancy Grace is a shining beacon of hope and joy, and her spirit needs to spread out across this great nation and reach as many people as possible.
That's why we, the people, are so thrilled to hear that she has a new syndicated show coming to television. Unfortunately, it's not going to be a talk show format, but rather more like those courtroom shows. I guess if we can't have our Grace like Oprah, we can handle some Grace-full justice, right? (Yes, I'm killing myself, too but I'm all in now -- what can I do?)
Swift Justice With Nancy Grace has been cleared in 80% of the country, so there's still places to move to ... for now. Slated for a fall 2010 premiere, it's being sold as two half-hour shows back-to-back. The format "offer a fresh take on the court genre, with Grace's tell-it-like-it-is form of justice taking center stage," according to the press release.
Grace certainly has her fans, but she's also a polarizing figure known for outspoken and at times controversial opinions. HLN certainly must have lower ratings expectations than the syndication market, so I'll be interested to see what kind of support she finds once she's widely available.
Plus, if it's just Nancy resolving petty disputes between nincompoops, will even her supporters be interested in seeing her do that, rather than a more open format.
Your Daily Blend of Entertainment News
Thank you for signing up to CinemaBlend. You will receive a verification email shortly.
There was a problem. Please refresh the page and try again.