Noah Wyle Returns In The Librarian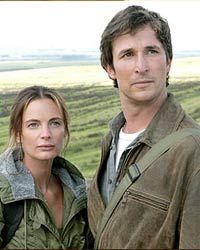 Noah Wyle has left the ER, well technically he's left Africa, and is returning to the life of a librarian. The youthful looking actor is returning to his role as Flynn Carson, a nerd with 22 academic degrees and the new librarian of the Metropolitan Library. 'The Librarian: Quest for the Spear' was the most watched basic cable movie in 2004, so Wyle and crew are returning for another adventure.
The movies are essentially Indiana Jones light, or maybe Lara Croft sans breasts. In either case Bob Newhart plays his mentor, which is worth at least two Shroud's of Turin. Carson wanders the globe looking for legendary treasures that are then locked away in a secret chamber. Why? No one knows, as it makes little sense. But this is all about the adventure, not the end game.
According to Reuters, the sequel finds Carson on a quest to find King Solomon's Mines. On the way he finds out about his father, who was killed when Carson was a child. He does some adventure like things, none of which compare to running from a giant boulder. It's a bit cheesy and contrived, but for a TV movie an admirable attempt is made.
Gabrielle Anwar plays the love interest, Emily Davenport. She's an archaeologist whose dig is interrupted by Carson. Jonathan Frakes, most known for his role on 'Star Trek: The Next Generation,' helms the movie.
Catch 'The Librarian: Return to King Solomon's Mines' on TNT Sunday, December 3 at 8:00pm EST.
Staff Writer at CinemaBlend.
Your Daily Blend of Entertainment News
Thank you for signing up to CinemaBlend. You will receive a verification email shortly.
There was a problem. Please refresh the page and try again.