Obama Family Dishes About What TV They Watch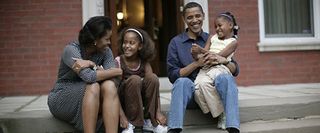 I have a hard time seeing President Obama as a man with the time to watch television programs. After all, he has policies to implement and a whole country to run. On top of this, the man is so avid about his love for sports, if he did have downtime, I wouldn't expect him to sit around watching comedies or HBO. That, however, seems to be some of the television Obama may be into, after all.
Apparently, our President prefers the darker side of television. In an interview with People, he spoke up about his love for freshman Showtime program, Homeland, which follows Claire Danes as Agent Mathison, a driven CIA agent hoping to stop an attack on U.S. soil. He also seems to like HBO's sophomore program, Boardwalk Empire, a show about Nucky Thompson's (Steve Buscemi) gang rule in Atlantic City. Both shows illuminate a rougher side to President Obama's television watching habits than one would expect.
This edge only seems to extend to time alone with the television, however. According to Obama's wife, Michelle, the HBO stuff is not a family activity.
Instead, family time equates to ABC time for the family, according to President Obama.
Television watching has probably been better for the first family more recently, ever since they installed a DVR in their living quarters. Apparently, some of the technology in the regular quarters is not particularly up-to-date. It's tough being President. You work your butt off all day, and you can't even come home to a nice evening of DVR until your first term is almost over. Sucks.
Your Daily Blend of Entertainment News
Thank you for signing up to CinemaBlend. You will receive a verification email shortly.
There was a problem. Please refresh the page and try again.