The Original Law And Order May Be Over, But Universal Will Give Fans A Full Series Set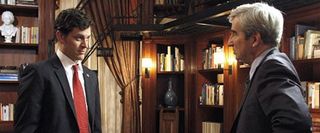 The original Law and Order series has not managed to put out all of the seasons of its hit franchise, yet. Seasons 1-8 and Season 14 are widely available, but the other 11 seasons are only projected. However, that isn't stopping Universal Studios Home Entertainment from releasing a full series set. Law and Order: The Complete Series will be released on to DVD on November 8th.
The sheer magnitude of the set is impressive. Law and Order ran for 20 full seasons between 1990 to 2010. That adds up to 456 episodes of the slightly less than an hour long drama. Zap2It is reporting there will also be a slew of special features to go along with the set. There is no official press release stating what extras will be officially available, but creator Dick Wolf is expected to be interviewed, a tribute to Jerry Orbach is also assumed, and a featurette titled "America's Top Sleuth" should come with the set, as well. Stay tuned for confirmed word on what buyers will get with Law and Order: The Complete Series.
Unsurprisingly, the set will only appear on DVD. Although a Blu-ray would be nice, can you imagine the lengths Universal would have to go to to ready Law and Order for an HD screen? Beyond that, the price would be ridiculous. < a href=http://www.tvshowsondvd.com/news/Law-Order-The-Complete-Series/15827>TV Shows On DVD is already projecting $699.99 for the DVD cost. Although, Amazon (opens in new tab) does have a preorder list price of $489.99. Even at that discounted price, I'll be holding out for a Deal of The Day.
Your Daily Blend of Entertainment News
Thank you for signing up to CinemaBlend. You will receive a verification email shortly.
There was a problem. Please refresh the page and try again.