PBS Show Secrets Of The Manor House Will Look At Edwardian Society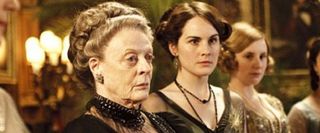 Just a few days after the second season of Masterpiece's Downton Abbey premiered on PBS, the network has a new historical show brewing. The program, called Secrets of the Manor House, will delve into Edwardian households to look at daily life, class gentrification, and other issues of the times.
Beginning on January 22, Secrets of the Manor House will go inside two manor houses, Manderston and Dunham Massey. The show will be shot on location - Manderston manor was located in Berwickshire and Dunham Massey belonged to the Earl of Stamford. Secrets of the Manor House will delve into the relationship between house owner and servant, as well as look at an aristocratic system that was basically unchanged for one thousand years. That is, until the events of WWI completely shook up British society.
Secrets of the Manor House will be produced and directed by Susannah Ward along with Pioneer Productions. According to PBS, a slew of Edwardian historians are on board to help audiences learn exactly what life entailed in the aristocratic system as well as in the systematic ways manor households were set up and positions were handed down. Lawrence James, the author of The Illustrated Rise and Fall of the British Empire and Dr. Elizabeth Kehoe, the author of Fortune's Daughters: The Extravagant Lives of the Jerome Sisters, will be on board to clarify points about key figures and ideas in Edwardian Society.
While in some ways a historical series may lack the punch, as well as the great costumes, of Masterpiece's Edwardian shows like Downton Abbey and Upstairs, Downstairs, the show seems as if it will be filled with traditions, triumphs, failures, juicy gossip, and a few American heiresses, which should all be enough fodder to entertain while teaching. PBS' Secrets of the Manor House will air Sunday, January 22 at 8 p.m. ET. Additionally, the show can be streamed starting January 23, at PBS' site.
Your Daily Blend of Entertainment News