Parks and Recreation's Ron Swanson Wants Oprah For Tammy One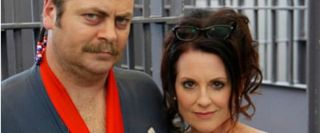 I don't know about you but over the course of their third season, Parks and Recreation, quickly became my favorite half-hour comedy on network TV (sorry Community, I still love you... just not as much as P&R). It has everything you could possibly want in a sitcom (or mockumentary), most importantly endearing and hilarious characters played by a talented crew of actor/comedians.
The actors/characters always make or break a show. You don't believe me? Try reading the Seinfeld scripts without the intonations and physicality brought to the screen by the likes of Jason Alexander, Julia Louis-Dreyfus and Michael Richards. Not as funny on paper are they? Well, Parks and Rec has created it's own wonderful group of characters, among which one man reigns supreme... Ron Swanson (aka Nick Offerman).
At the end of the Season 3, SPOILERS, they hinted at (well, not so much hinted at as directly mentioned) that we would soon get our first taste of Ron's first wife, Tammy One (Tammy Two is played hilariously by Offerman's real wife Megan Mullally). Her appearance in the finale was limited to a Dr. Claw (yes, Inspector Gadget people) like shot of only her arm through Ron's office window. So, we're left to wonder just who will fill the already big-shoes and step into the role of Tammy One? Well, Ron, sorry Nick Offerman, has his own ideas.
The Huffington Post (opens in new tab) caught up with Offerman who had this to say, "We're trying to start a campaign to get Oprah to play Tammy One. I think Oprah would be the only, she's the only person we can think of that might be intimidating to Megan Mullally. It would be so good." Can't really argue with that and since she did make an appearance on 30 Rock, maybe it's not even outside the realm of possibility. The 'campaign' was furthered by co-star Aziz Ansari retweeting (opens in new tab) the Huff Post article in hopes to generating some more buzz.
Will this grassroots effort to snag a cameo from one of the biggest media moguls pan out? I guess we'll have to wait for Season 4 (or more likely a story on some blog by some writer spoiling the whole thing... like me).
Your Daily Blend of Entertainment News