Parks & Recreation Watch: Season 4, Episode 20 - The Debate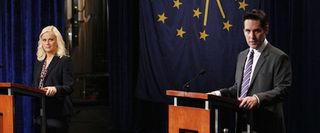 Leslie is closing in on Bobby Newport and she is hoping to use this week's debate on Parks & Rec to finally crush him; the road is not so smooth though.
Before we get to the debate we must check in on what everyone else is doing, starting with Ron, Andy, and April's fundraising event. Ron prepares the meat, April wines the guests, and Andy forgets to pay the cable bill. The viewing party quickly turns into an Andy's favorite films reenactments. Chris Pratt is great as he passionately recreates Roadhouse, throat-rips and all, but nothing was more touching than watching him bring the crowd to tears with his Babe retelling. Pratt shows a ton of range and he makes up for the next to nothing Ron and April have to do this week.
Chris, Anne, and Tom are on spin control during the debate, but the romantic triangle could hurt their ability to operate. Well, actually it's just mainly Tom, who is whining and longing for Anne who dumped him, "for realz," this time. Tom and Anne are not compatible and they have more or less run the gauntlet of whiney Tom reactions to their problems, and I was hopeful they were going to leave this alone. Chris asks Anne out as well and, thankfully, Anne decides to stay single, but I am not comfortable with Tom and Anne still being a possibility. I did love Rob Lowe as a spinning machine though, so good he could make cancer sound ok.
Let's get to the real meat of the episode with Leslie and Ben trying to win the debate. Obviously everything doesn't go perfectly and the show does a great job at filling out the debate field with some interesting characters. Caricatures of gun toting Republicans and pandering candidates are easy targets, but I enjoyed the porn star that sexualizes everything and constantly associates herself with Leslie; not the first time she has been connected to adult film stars on the show. Paul Rudd is also great, as usual, as the dopey and almost loveable Newport who steals the heart of the viewers, almost to Leslie's end. Leslie knocks it out of the park in the end as she has to take Newport head on after he pulls a giant stunt saying they are going to pull Sweetums, and all of the jobs they supply, out of Pawnee. Leslie's speech is genuinely affective, politically relevant in the real world, and goes over so well that even the idiot man boy Newport thinks it is awesome. Amy Poehler wrote and directed this episode and she steals the show with some great acting in her speech; well done.
Leslie really has a shot at this thing after this week and it will be interesting to see how they keep the campaign fresh as they have a few episodes left this season. It stinks that most of the cast is regulated to very minor roles this week, but Amy Poehler knew what she was doing and made the most out of the Leslie showcase. Vote Knope in 2012, just don't kick your TV in the process; you won't be able to find out if she wins!
Bullets:
-Leslie is closing the gap!
-"If I had anyone to tell me that I had cancer, I'd want them to be me."
-"then chew it up and gargle with it."
-Let's hope this is the end of Anne and Tom.
-"Does defy logic."
-"We like to dabble."
-"That is all, Ron Swanson."
-"Nothing gets me more amped than Sarah McLachlan."
-Buddy Garrity!
-Uh oh, Leslie.
-"I would like to tell Mr. Munchmeat…"
-"By the looks of this guy we're not talking about consensual sex here."
-Love the juice box shot.
-"By 2013 we will have a fully functioning mall on Jupiter.
-"I'd appear in a film with any of my candidates."
-"and is his penis normal?"
-Do it Leslie!
-"How do we fix this town, you tell me."
-Like the way they are weaving in real life politics.
-Why is Jerry with those nuns.
-"Holy shit Leslie, that was awesome." Great moment there for Rudd.
-"Anne Perkins! Uh oh." No!!!!!
-Rudd is great, three person camera look.
Your Daily Blend of Entertainment News
Your Daily Blend of Entertainment News
Thank you for signing up to CinemaBlend. You will receive a verification email shortly.
There was a problem. Please refresh the page and try again.