Parks and Recreation Watch: Season 5 Finale - Are You Better Off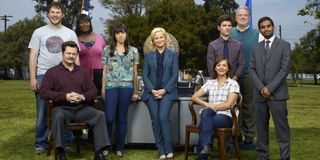 Season 5 wraps up with a solid episode that leaves a lot of plot lines open, which is a good thing, since I feel like Parks & Rec feels like it's coming back next year.
Leslie is on Cloud 9 for Founder's Day in Pawnee and she is planning on having her "victory lap" at her public forum championing her first year in office. Her motto is, "Are You Better Off," and a certain contingent of the Pawnee business owners, led by Paunch Burger's CEO, claim that Leslie has taken away their freedoms ever since she was elected to the city council. The plot seems like little more than a revolving door of familiar faces, Brandi Maxx and the Pawnee Pawn guy being the standouts, and the group quickly moves on to a future recall of Mrs. Knope two months down the line. This is the first of a few clues that the show is setting up plot for another season and while that didn't exactly lend itself to a great episode for Leslie I am excited in the future prospects nonetheless.
Bert Macklin is back from retirement, this time to solve the mystery positive pregnancy test he dug up after Ron's cabin retreat (he accidentally threw away his hoodie). The investigation is rather simple, with no twists whatsoever (the reveal that it is Ron's girlfriend was seen coming a mile away), but it was great to see Chris Pratt slip back into his Macklin persona; which is always a highlight. The lack of development of Andy over the last half of the season is another flag that the show might be coming back, but of any of the characters that I felt got some closure if this is the series finale it was Andy and April. April growing up a little bit more by getting into vet school (and a great moment for Plaza to show her chops by the way) and the genuine happiness the two have was one moment I would be happy to end on.
The last plot line was dedicated to a possible buyout of Rent-A-Swag and might have been the best simply because Jean Ralphio makes an appearance. Mona Lisa is still hanging around Tom as well and Jenny Slate delivers a few more great moments, but this might have been my favorite work by Ansari in sometime. The mystery buyer is never revealed, "It's not Diddy," but this is, again, another nice set up for some more drama next season between Tom and his new competitor.
Another big reason I hope this isn't the last episode of the series is that Ron does next to nothing this episode. Outside a great little rant to open the show, he mostly disappears outside an investors meeting for Rent-A-Swag. Ann and Chris are also left very in the wind, even if the sex is great, but I'm not going to lie, Rashida Jones killed me with her little rant over someone else getting pregnant. Jerry coming back for five whole seconds was also one of the sweetest moments of the episode. Jim O'Heir was just so sincere with how he missed getting made fun of. Ben continues to be MIA ever since he got married.
Parks & Rec can't end on this note, not just because it wasn't a great episode, but because it seems like it still has plenty of stories to tell. I expect this to not be the series finale of the show and I appreciate the confidence the show has going forward that it will be back. I want to see Ben and Leslie's family, I want to see Chris and Ann have their baby, I want more Jean Ralphio! By no means the greatest episode of Parks & Rec, it still seems like a show with stories to tell, lets just hope NBC feels the same.
Random Notes:
-"Or gotten to know any of you."
-Bert Macklin!
-"Macklin, you son of a bitch."
-"Ooooo, boo, no."
-"Welcome to the F.B.I."
-"This case just remained interesting."
-"I had a small part in Argo."
-"I've seen the fist 90 seconds. It was thrilling."
-"I thought a lot about this, I think you should get a Hello Kitty tattoo."
-Poor Jerry. Awe he misses them.
-"No spoilers!"
-"I'm the Nipple King."
-Jean Ralphio!
-"You had a dumb-dumb face!"
-"Stomp the Yard! There's one."
-"As I've known about you for the last twenty seconds, it's your dream."
Your Daily Blend of Entertainment News
Thank you for signing up to CinemaBlend. You will receive a verification email shortly.
There was a problem. Please refresh the page and try again.