Parks And Recreation Watch: Season 6, Episode 12 - Farmers Market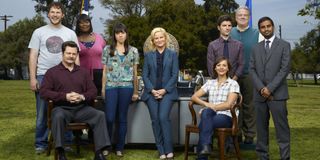 Parks And Rec finds a strong angle for Ben and Leslie while also maybe finding a fun future for Andy, or should I say, Mr. Karate.
Leslie getting drunk on the power of being married to the city manager was bound to happen, but they played it out to particularly strong effect. Ben pushing back was just as obvious a move for the rule following nerd that he is and the two's battle was a lot of fun to watch. I wish they would have maybe left this door a little more open than they did, but the angle was fun while it lasted. Now where can I find a Farmers Market After Dark? Also, excellent use of Ron this week in a very sparse role. They even had a couple interesting directorial flourishes with his Hank Williams tunes.
Anne even managed to be interesting this week as she invades the Parks Department's "Whine and Cheese Club." Chris being the perfect man that he is, just won't let Anne vent. This, coupled with a pregnancy hormone overload leads to an insane side of Anne Perkins we've never seen, and I like it. It is a shame they waited this long to unleash this side of Rashida Jones a week before she leaves, but at least they gave us Rob Lowe's line reading of "boob hats." Boob hats is, literally, the funniest thing Chris has ever said.
Andy and April had a fun storyline as well, with Craig making another appearance that has him continuing to grow on me. Filling in at Craig's nephew's birthday party, Mouse Rat's song catalog just might not fit the bill. After the group bails Andy is stuck to improvise on his own and he kills it as Mr. Karate. Watching Chris Pratt perform these silly songs for these kids is just a joy and I hope they have longer versions of all of them online. Pratt's charisma just oozes out of him when he is performing and how can you not get excited for a surprise appearance by Bert Maklin.
A nice turnaround after last week's awkward transitional episode, Parks And Rec has one of its better episodes of the season. Anne and Chris leave the show next week, so more transition is on the way, but I look forward to seeing where the show takes us and hope the show's lesser characters still get a fine send off.
Random Ramblings:
-"I think he broke my wrist, I'm not kidding."
-"Hahaha, whales don't have feet."
-"Connie, no. Put those away."
-"He's a horrible little tyrant so please don't ruin this day for him!"
-"Larry, Salami!"
-Crazy Anne Perkins, the best Anne Perkins.
-Dave Grohl shout out!
-"I like to think of it as celery with BO."
-"Tom put all of my records on to this rectangle!"
-Craig is growing on me.
-Where is the Bert Macklin "Stinky Feet Patrol" single?
Your Daily Blend of Entertainment News
Thank you for signing up to CinemaBlend. You will receive a verification email shortly.
There was a problem. Please refresh the page and try again.