Paul Feig Will Direct The Pilot For HBO And Goldie Hawn's The Viagra Diaries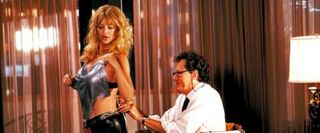 Director Paul Feig is clearly one of the most talented filmmakers when it comes to comedies. Feig directed the best comedy of the year with the Judd Apatow produced Bridesmaids which was so good in fact, that there was significant Oscar Buzz for the film even though it only managed to earn two nominations (one for Melissa McCarthy's supporting turn and another for Kristen Wiig & Annie Mumolo's script). The director has been doing amazing work for years, whether pitching in to direct episodes of your favorite sitcoms like The Office and Arrested Development or creating one of the many great shows cancelled before it's time in Freaks and Geeks. So yeah, Feig has major credentials which makes it no surprise that the most prestigious network on television has sought him out. Paul Feig is bringing his directorial wiles to work with legend Goldie Hawn at HBO.
Before getting into the details, just the fact that the show, The Viagra Diaries, seems focused on female comedy makes Feig the obvious choice after the summer that he's had leading females to funny. However, that's not to suggest that there aren't some talented women who could also find their way behind the camera as the series progresses. Either way, Deadline made the announcement that Feig will definitely direct the pilot for an adaptation of Barbara Rose Brooker's bestselling The Viagra Diaries. It was over six months ago when we first shared the news that legendary actress Goldie Hawn would star in Darren 'Sex And The City Starr's adaptation of the book which would make it her first acting gig in a decade. Hawn is also on board to exec-produce alongside Star, Aaron Kaplan and Wendy, Peter and Alan Riche.
Brooker's The Viagra Diaries is about a sixty-five year old woman named Anny Applebaum who experiences quite a shake-up late in life when her mid-life crisis battling husband suddenly leaves her alone after thirty-five years. Okay. Pause. Most of the synopsis I've read suggest that this is the case, however, from the book sleeve below, it seems like a completely different situation having Applebaum been divorced for over thirty years. A little confusing. Either way, the character writes a weekly column in a San Francisco paper about the trials and tribulations of being a senior on the look for love. One of her columns (very Sleepless in Seattleesque) goes 'viral' catching her and her audiences' attention and now she must struggle with her own feelings, hopes and how to spend the rest of her life. Sounds like a good premise for a series and with Feig on board, it only increasing my anticipation. Looking forward to this one. "Love and sex after sixty! You can have it all!"
Official synopsis for the book (via Facebook Page),