Pharrell Williams And His Funny Faces To Judge On The Voice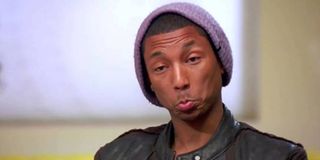 Pharrell Williams has had a banner year or so. In the past twelve months, he contributed vocals to two huge charting hits, and wrote a popular song for the Despicable Me 2 soundtrack called "Happy" that earned the singwriter, songwriter and producer an Oscar nod. Despite all of the recent success, the man doesn't seem to want to slow down an iota and on Monday NBC announced Williams is about to become the next judge and mentor on The Voice.
That's right, Williams will join the popular singing competition series for its seventh season, likely taking over the slot normally filled by Cee Lo Green. If you've been keeping tabs on The Voice, you probably already know that Green made the surprise announcement that he would be quitting in February during a taping of Ellen DeGeneres' popular daytime talk show. At the time, he noted he hadn't put out an album in four years and it was time to quit and focus on his career. Of course, the less family-friendly reason Green might be quitting stems from a court case the man is involved with, which alleges Green slipped ecstasy into a dinner date's drink back in 2012. The man recently went to court for the event and a preliminary hearing has been set for April, according to NME.
Because of this, it seems to be the perfect time for Green to take a step back from the limelight and I can't think of anyone better than Williams to fill his shoes. First of all, Green and Williams have worked together, recently on the Despicable Me 2 soundtrack, so it's almost like Green is passing on the torch to a comrade. Secondly, Williams has already had some experience with The Voice, having joined the show as an advisor to judge Usher. Being a coach during Season 7 is clearly a lot more responsibility and will be more of a time commitment, but with his prior experience, the singer should be able to do quite well.
NBC announced the news on Monday, at first via a Twitter announcement offering a clever pun.
Later in the afternoon, NBC and executive producer Mark Burnett confirmed Williams would be joining the series via a press release, which made no mention of Green's exit. Additionally, NBC is stating that the other judges' names will be released sometime in the future. It's likely that veteran judges Blake Shelton and Adam Levine will be on that list. However, The Voice has employed a revolving list of judges in the past and Christina Aguilera recently took some time off for a pregnancy, so I'm not banking my money on a lineup involving all three of those aforementioned names, yet.
We'll let you know how Season 7 shakes out as soon as NBC releases the news. In the meantime, you can catch new episodes of The Voice on Mondays and Tuesdays at 8 p.m. ET.
Your Daily Blend of Entertainment News
Reality TV fan with a pinch of Disney fairy dust thrown in. Theme park junkie. If you've created a rom-com I've probably watched it.