In Plain Sight's Mary McCormack Joins NBC's Welcome To The Family Pilot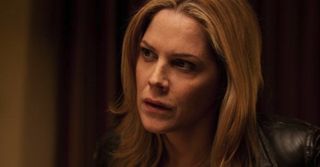 NBC's Welcome to the Family, a multi-cultural comedy pilot from Rules of Engagement's Mike Sikowitz, has added another face to the cast. The latest addition is In Plain Sight's Mary McCormack.
TV Line says McCormack has signed on to play the role of Katrina, but doesn't tell us anything more about the character or how she relates to the storyline. The pilot centers on two families, one white and one Latino, who suddenly find themselves forced to bond when a romance and an unplanned pregnancy between their children pushes them together. It seems likely from the description that ethnic stereotypes and cultural misunderstandings will be the source of most of the laughs here, although I sincerely hope they can give it a fresh approach since it's old, well-used (and often poorly used) material.
McCormack is best known for her role on In Plain Sight, but has other strong TV credits that include The West Wing and ER. She's done some big screen work as well, including the thriller 1048 with John Cusack and Samuel L. Jackson. Her most recent movie was Should've Been Romeo alongside Ed Asner.
Welcome to the Family, which has a lot of competition from the many other comedy pilots in production this season at NBC, has also cast Glee's Mike O'Malley to play one of the soon-to-be grandparents to the surprise baby along with Ricardo Chavira (Desperate Housewives), Ella Rae Peck (Deception), and Aramis Knight (Dexter). The single-camera project will be executve produced by Sikowitz.
Your Daily Blend of Entertainment News
Thank you for signing up to CinemaBlend. You will receive a verification email shortly.
There was a problem. Please refresh the page and try again.