Power Review: Curtis Jackson's Starz Drama Boasts Solid Performances And A Promising Start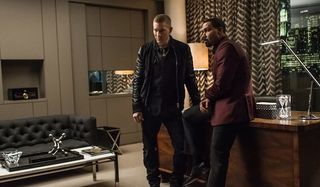 Starz is taking a break from period dramas and adventure shows like Black Sails and Da Vinci's Demons to present Curtis "50 Cent" Jackson's promising new drama Power. The 8-episode first season gets off to a solid start, introducing us to an up-and-coming nightclub owner who's using his hot new establishment as a front to launder money brought in by his lucrative and more established drug network. Power shifts its attention from James "Ghost" St. Patrick's businesses, both legitimate and otherwise, and his personal drama, which includes his family, his friends, and a reconnection with a woman from his past.
Created by Courtney Kemp Agboh, with Curtis Jackson among the executive producers, Power's series premiere introduces us to James "Ghost" St. Patrick (Omari Hardwick), the owner of a hot new club, who has spent years working hard to establish himself as a drug network kingpin. As we learn early on, the night club exists to launder money, but it's giving Ghost a taste of legitimacy, causing him to wonder if maybe it's time to leave the drug ring behind and actually live the image he's presenting through his night club. Though Ghost is contemplating legitimacy, he doesn't waver in his responsibilities toward keeping his drug business running. That includes making harsh calls when he finds his business under attack by a mysterious enemy.
Naturi Naughton plays Tasha St. Patrick, Ghost's wife, who's supportive of her husband's endeavors, but she's also sensitive to the amount of attention he gives her, which presents some interesting conflicts in the first couple of episodes. Joseph Sikora plays Tommy Egan, Ghost's childhood friend and business partner. Tommy appears to be kind of a tricky character, when we take into account his history with Ghost and his own personal motives as they relate to their business.
Finally, among the leads, there's Lela Loren, who plays Angela Valdes, an old flame of Ghost's who runs into him at his night club. It's evident from the start that there are still feelings between them, but the situation proves to be a lot more complicated than Ghost realizes, as Angie's among a team of law enforcers and attorneys investigating the drug ring in New York.
The cast of characters all deliver solid performances, with Omari Hardwick standing out in particular in his portrayal of a character who is strong, established, charismatic and also conflicted, as Ghost examines his life and contemplates his future, much to the dismay of the people in his life who would rather he stay the course. Naughton's performance as Ghost's wife Tasha stands out as well, as she's presented as a confident wife and mother who isn't the kind of woman to turn a blind eye to Ghost's work, eager to spend his money and not think about where it's coming from. Sure, she's happy with the luxuries her husband's business affords her, but it looks like Tasha wants to be a partner in all aspects of Ghost's life. She's a strong character in some ways, but she has her insecurities, some of which may not be unfounded, as Ghost isn't always as up front with her as she wants him to be.
Where Power succeeds best is the balance between Ghost's work and his personal life and the drama that unfolds and collides from one to the other. We're not forced too far into the intricacies of drug networking, nor night-club running. We're shown just enough to understand the challenges Ghost faces, the primary one being this mysterious threat that's on the attack, the source of which is unknown from the start. In terms of the series' content, there's a fair amount of sex and violence worked in, but Power doesn't seem determined to revel in either, nor does it seem to be trying to glamorize drug use, as its focus is on the higher levels of the industry and not actually the product.
While the series does reveal Ghost's darker side at times, Power does seem to recognize the importance of protecting and presenting its lead character's image in a way that's intriguing and exciting, but also palatable. It's a tricky balance, as proven by other antihero dramas (The Sopranos, Breaking Bad), and one Power will surely have to deal with regularly as the story progresses.
On one hand, as it relates to the violent side of the industry, Power has Ghost pushing up his sleeves and getting his hands dirty when it's required, demonstrating that he isn't a man to be messed with, and that he's willing to do what needs to be done to protect his business and himself. But on the other hand, we don't really see him talking about drugs in specifics, nor is he often surrounded by (or even in the vicinity of) illegal narcotics. The explanation for that could be simply that he's too far up the ranks to need to be anywhere near the drugs that shape his empire, but from a viewer's perspective, the detachment between Ghost and his product probably helps soften him a bit, allowing us to disassociate the character with the harsh effects his product likely has on his community. That's not what Power is about, at least not at the start. The business, and obviously the power, are at the forefront, as is the character drama.
As for the direction of Ghost's character, it's hard to say if his interest in abandoning crime and focusing his future on the night club industry is going to be a long-term arc for this series, or if it's merely worked into the introduction to make him seem more sympathetic and less certain of his illegal dealings. Time will tell there, but it's one of the more interesting elements of the story, so it should be interesting to see how that plays out, one way or the other.
The first three episodes of Power's 8-episode first season do a fine job of bringing us into the story and building steady momentum with each installment. Power does well to allow us to get behind Ghost as he sets out to further his success, both as a nightclub owner and a drug kingpin. His interest in legitimizing himself makes for some intriguing conflict, especially as we see the way the tide is working almost completely against him. With its focus split between Ghost's criminal activities and his legitimate ones, not to mention all of the intriguing character drama that's brewing for Ghost and the other leads, Power's introduction shows a lot of promise in its potential to be a well developed and worth-watching TV drama, and also another great direction for Starz (opens in new tab). Time will tell as to whether or not Power will achieve the kind of consistency in its writing to meet the high standard set by other antihero-focused TV dramas that came before it. In the meantime, the first few episodes certainly offer a compelling enough introduction to leave us wanting to see how the rest of this season plays out.

Your Daily Blend of Entertainment News
Assistant Managing Editor
Kelly joined CinemaBlend as a freelance TV news writer in 2006 and went on to serve as the site's TV Editor before moving over to other roles on the site. At present, she's an Assistant Managing Editor who spends much of her time brainstorming and editing feature content on the site.