Ralph Macchio To Star In Lifetime Holiday Movie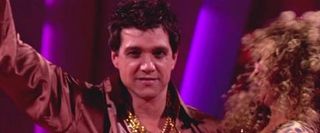 Ah, that wonderful holiday tradition, the Lifetime movie. Melodramatic storylines backed by the magic of the holiday season, is there anything better? Of course there is – there's a Lifetime holiday movie starring none other than the Karate Kid himself, Ralph Macchio. He's on board for Lifetime's anticipated holiday film for this year, Holiday Spin.
Macchio will play the owner of a struggling but once-famous dance studio whose son comes to live with him full time after his mother's sudden, tragic death, says The Hollywood Reporter. Macchio's character, Ruben, is getting ready to have his soon-to-be stepdaughter Pia star in a holiday dance contest when his rebellious son Blake arrives. Pia and her dance partner run into trouble, and so of course Blake steps up to dance with her. And then, the two start to fall in love. Of course they do, it's Lifetime!
Garrett Clayton of Disney Channel's Teen Beach Musical will star as Macchio's son. There's nothing quite like the realization that the Karate Kid is now playing father roles to make you feel old. That is, if you're like me and actually remember when The Karate Kid came out. Sure, Ralph Macchio has done other work since then, but he'll always be Daniel to me.
Speaking of his other work, Macchio is set to guest in an upcoming episode of Happily Divorced on TV Land. He should also do pretty well with his role as a dance instructor after his turn on Dancing With the Stars.
Your Daily Blend of Entertainment News
Thank you for signing up to CinemaBlend. You will receive a verification email shortly.
There was a problem. Please refresh the page and try again.