Raquel Welch To Guest Star On CSI:Miami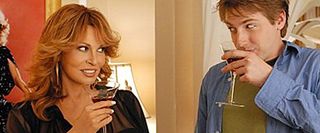 Season 10 of CSI: Miami is beefing up its cast with some former sex symbols. 10 star Bo Derek is set to appear on an episode in the near future, and now the veteran crime drama has added another iconic lady to its cast. Following Bo Derek, Raquel Welch will appear on the CBS program in early 2012. It may be Miami, but it is unlikely she'll bust out the cavewoman bikini.
Will it be a grieving role or an evil role for Welch on CSI:Miami? In her guest stint, Welch will play the mother of bad guy Diego Navarro. According to TV Line, not only will Welch play the mother of a very bad dude, she will basically be the matriarch of an extremely influential Miami family. I expect to see some meddlesome claws pulled out during her tenure on the Sunday night show.
While Welch is most known for her late sixties and early seventies film work including One Million Years B.C., The Three Musketeers and Bedazzled, she has worked on several television programs in the last decade. In 2004 she appeared in an episode of 8 Simple Rules. More recently, Welch had a recurring role on CBS' short-lived Welcome to the Captain. It may have been a couple of years since Welch appeared on television, but luckily CSI:Miami is a well-run machine at this point, so she should have no trouble. Perhaps Derek and Welch's appearances will even manage to shake up the gears a little bit. They might even give me a reason to tune in.
Your Daily Blend of Entertainment News
Your Daily Blend of Entertainment News
Thank you for signing up to CinemaBlend. You will receive a verification email shortly.
There was a problem. Please refresh the page and try again.