Raven-Symone Dons Fat Suit For State Of Georgia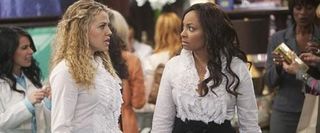 ABC Family's State of Georgia is a half-hour comedy series about a girl who moves to New York aspiring to be an actress. It stars Raven-Symone, has been picked up for 10 episodes, and has aired one episode so far. Cinema Blend's Kelly West previewed the first episode, but before production there were some issues with Georgia Chamberlain, the role Raven-Symone was set to play.
To preface the problem, you need to know that Raven-Symone dropped 70 pounds in the last year. Because her character on State of Georgia began as a heavier lady, producers had her wearing body pads to make her character look the weight their lead was a year ago. This seems like a pathetic attempt to grab an extra demographic, and really, it needn't be. A show about a girl trying to make it in New York doesn't need to also be a show about weight; however, it seems like producers were desperately using the weight premise to make the show stand out from other female-based comedies.
The problem might have stemmed from the pilot, which was written by Jennifer Weiner, a writer who often features curvy women as protagonists in her works. But forcing someone who has worked extremely hard to lose weight to put that weight on day in and day out really sucks. I guess, in some ways, actors and actresses have to know what they have signed up for, but I can still see being forced to wear a fat suit as disheartening. Plus, producers had to have known this might happen: there's no way State of Georgia went into production with Raven-Symone before she began losing weight.
According to Zap2It, Raven-Symone had a talk with the writing staff, stating:
.
As rambling as her statement is, Raven-Symone has made her point. I didn't notice her looking as if she'd worn a really burdensome fat suit during the pilot, but I also wasn't really looking. Maybe they compromised and she only had to add 20 pounds. Either way, that's a few more points stricken from a program I was already not planning to get into.
Your Daily Blend of Entertainment News