Raymond Chandler's Phillip Marlowe Could Return To TV At ABC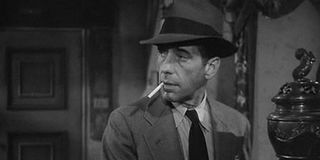 One of literature's most famous hard-boiled private investigators might be coming back to television. It's only been half a dozen years since the last time ABC tried to bring Raymond Chandler's Phillip Marlowe to the small screen but that's not stopping the network from trying again, this time with Castle creator Andrew Marlowe (no relation) behind the prospective project.
Deadline reports that Marlowe (the person) is writing the pilot script for Marlowe (the character, this is confusing) with fellow Castle writer (and his wife) Terri Edda Miller and both are executive producing with Michael De Luca's production company. De Luca is also an executive producer on Mob City, Frank Darabont's upcoming detective drama, however, both the network restrictions and period setting will ensure these new series are quite dissimilar. I wish I could say that Marlowe was also going to have a more adventurous home as well as the traditional post-war era setting but it's described as a...
As a big fan of Chandler's work, nothing in that pitch sounds appealing to me. The character was always smart, sexy and stylish and I always imagined him coming back to the small screen (or big) back in the era in which he originally navigated. Something with Boardwalk Empire level set design except in late 1930s Los Angeles. Don't get me wrong, I'll still tune in to watch a simple procedural following the famous P.I. - which it what it sounds like it will be - but this property has so much potential that I'd prefer the HBO (AMC, etc.) treatment over an ABC. Oh well, there's still Mob City. As for who could be the new Marlowe? I can't think of someone sufficiently gravelly. Maybe Timothy Olyphant or Josh Holloway? Too bad both are already engaged in their own series.
Like I said before, ABC already tried to create a series based on Philip Marlowe, with Jason O'Mara playing the title character, but the project didn't get past the pilot stage. Other previous adaptations of Chandler's work involving the anti-hero include HBO's Philip Marlowe, Private Eye, a period piece from the 80s with Powers Boothe (and a show that sounds similar to the one I was describing), as well as features (or TV movies) starring Humphrey Bogart, Robert Mitchum, Elliot Gould, James Garner, Danny Glover and James Caan. Both The Big Sleep and The Long Goodbye, Bogart and Gould respectively, are exceptional films with the latter being one of my all-time favorites. Robert Altman at his best and Gould is great as the famous investigator.
Your Daily Blend of Entertainment News
Thank you for signing up to CinemaBlend. You will receive a verification email shortly.
There was a problem. Please refresh the page and try again.