Read Anthony Hopkins' Praise-Filled Letter To Bryan Cranston About Breaking Bad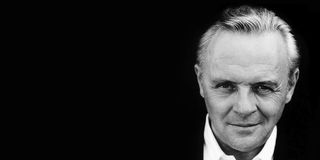 When a TV show is a hit, it stands to reason that it may have caught the attention and appreciation of some A-list actors. From time to time, we'll hear a celebrity chat on a talk show or in an interview about their obsession with a certain show, breaking our misconception that they spend all of their evenings out at trendy night clubs and lavish Hollywood parties, when they're not on set shooting their next whatever. Sometimes they're at home in yoga pants watching Scandal, or in the case of Anthony Hopkins, marathoning through Breaking Bad from start to finish. Whether or not he was in yoga pants when he did this, we don't know, as he doesn't mention what he was wearing in the email he penned to Bryan Cranston, in which he unloads heaps of praise on the actor and the rest of the cast, whom he credits for having given "master classes of performance."
Gawker shared the letter below, citing Steven Michael Quezada's Facebook page, though the original post has since been removed:
Praise from Anthony Hopkins, or "Tony Hopkins" if you and he are like that, is certainly something to brag about, so I can't blame Quezada (or whoever runs his FB page, if not him) for dropping that email on his Facebook page. And I can't blame Hopkins for falling in love with Breaking Bad, as he's among millions in that regard. But it's particularly great that this praise not only comes from an actor of such high caliber, but also from a man who knows a thing or two about villainous lead roles. Hannibal Lecter was something of an antihero. Hopkins played that character masterfully, with a blend of menace, charm and borderline likability despite Lecter's murderous and cannibalistic tendencies. Walter White was a very different character, but it's guys like Lector -- and performances like Hopkins -- that have paved the way for lead characters who do bad things.
Of course, Hopkins mentions none of that in his letter, as his focus is on the show, Cranston's performance and the performances of everyone in the cast, whom he says are the best actors he's ever seen.
Your Daily Blend of Entertainment News
Thank you for signing up to CinemaBlend. You will receive a verification email shortly.
There was a problem. Please refresh the page and try again.