Real-Life Rock Star Michael Des Barres Playing One On NCIS Next Season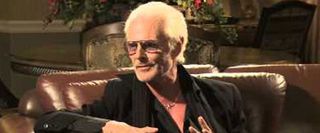 I knew former Detective frontman Michael Des Barres was good at marrying groupies, but I had no idea he had a bit of a knack for acting until he randomly showed up in an episode of Bones in Season 6, playing a famous rock star running a camp for wannabes. Granted, from what I've seen, the man is best onscreen when he is playing some type of former rock star, which totally works, as long as network television continues to need those sorts of roles. Now, CBS has apparently picked up on the musician's acting prowess and has hired him to play a role on one of the network's most popular shows.
Des Barres will join NCIS during the show's 10th season, as an aging rock star who has hit hard times. According to TV Line, the string of bad luck started way back in the 1980's, after Mr. Rockstar partied a little too hard and spent all of his musical earnings. During the episode, Des Barres' dodgy character will be in the middle of hiding out from some creditors when he enters the plot.
The actor's appearance will occur pretty early on in the season, with Des Barres popping up during episode 3. The last time I caught Des Barres onscreen, his character was magnetic, although a bit of a cocksure bloke. The man has appeared in Suits and The Finder since then, but it will be attention-grabbing to see him play a rock star from the other, down-and-out end of the musician spectrum.
NCIS premieres Tuesday, September 25 at 8 p.m. ET on CBS.
Your Daily Blend of Entertainment News
Thank you for signing up to CinemaBlend. You will receive a verification email shortly.
There was a problem. Please refresh the page and try again.