The Real Reason Frank Darabont Was Fired From The Walking Dead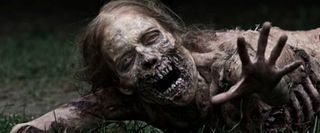 As it turns out, Frank Darabont's firing as the showrunner of AMC's The Walking Dead didn't just come as a surprise to the show's faithful fans, who had seen Darabont on a panel for the zombie series at San Diego Comic Con just days earlier. As documented in this in-depth, fascinating article in The Hollywood Reporter, Darabont had no idea he was about to be axed when he took the stage at Comic Con, and neither did the cast or crew of the show, who are now so terrified to talk about the problems behind the scenes that virtually none would go on the record for the article. As one insider grimly noted, "They're on a zombie show. They are all really easy to kill off."
The story laid out in the article, though, is not that unexpected for anyone who has followed AMC's negotiations with both Matthew Weiner and Vince Gilligan, the respective showrunners of their massive hits Mad Men and Breaking Bad. In short, the network is constantly trying to cut costs, which in Mad Men's case involved demanding more advertising time and a smaller budget. For The Walking Dead, they were asking Darabont to increase the number of episodes-- from the six-episode first season to thirteen in the second season-- while also slashing his budget. Darabont, the successful director of feature films like The Shawshank Redemption, didn't really take well to either network schedules or production practices; as one source said it, he is "notoriously a pain in the ass" for his approach.
But that pain in the ass also made The Walking Dead AMC's biggest hit, far outpacing the critically acclaimed but underwatched Mad Men and Breaking Bad. That massively packed Comic Con panel is all the evidence you really need that The Walking Dead is firmly in the cultural conversation, and as showrunner Darabont had a huge hand in that. Read the full THR article for all the dirty details about the tension behind the scenes, and also a ray of hope in the fact that new showrunner, Glen Mazzara, is an experienced talent who might be able to smoothly pick up the reins. No matter how talented he is, though, he'll be trying to replicate the successful formula of The Walking Dead but with less time and less money-- a huge, somewhat inexplicable hurdle for a network to put in front of their giant hit. If the show suffers in quality in this second season, it appears we'll know the network is to blame.
Your Daily Blend of Entertainment News
Staff Writer at CinemaBlend