Real World Cancun Video Clips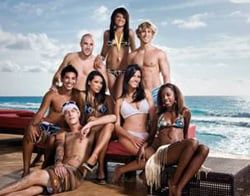 Two of the things Real World viewers generally anticipate most when it comes to the premiere of each new season are the houseguests and their living situation. Since the premiere of The Real World: Cancun is just a couple of weeks away, MTV released a couple of videos to give viewers a taste of what's to come.
Speaking of tastes, it looks like Bronne got himself some older-woman action. Check out the video for that below along with a clip of some of the houseguests tearing through their new home.
The house:
Bronne makes out with a Cougar:
The Real World: Cancun premieres Wednesday, June 24, at 10pm ET/PT on MTV.
Below are the bios for the Cancun houseguests as listed by MTV:
Derek
Age: 21 -- Phoenix, AZ
Derek is the resident nice guy...a friend to all. But watch out, he's not afraid to be brutally honest about anything and everything. But even so, all the roommates love him. He was raised in a small town by his grandmother, who he calls his mom, since she was there for him throughout his entire life. Through it all Derek became an overachiever. In high school, he was president of the student council, captain of the basketball and track teams, and valedictorian of his graduating class. He is openly gay and loves the single life, claiming he's too young to be committed to anyone, although he does have ex-boyfriend baggage that seems to follow him around....even to Cancun. Derek is currently pursuing a bachelor's degree in Kinesiology at Arizona State University and ultimately wants to be a physician's assistant. This rarely happens on "The Real World," but Derek has the benefit of already knowing one of the roommates. He and Jonna work together at a bar in Tempe.
Jonna
Age: 20 -- Tempe, AZ
Jonna is the roommate with the boyfriend back home. This multi-racial beauty swears from day one that she'll remain true, but how long before the temptations of Cancun get the better of her? The guys hope it doesn't take long. Jonna's had a rough life. When she was four, she was put into foster care and lived with a strict religious family. At nine she was adopted by her caseworker who kicked her out of the house when she was 18. Not one to let her past get the best of her, Jonna dreams of making people feel better about themselves by being a successful hairdresser. Jonna is trying to stay focused and shake her promiscuous past, but she can't help flirting, which turns on the guys in the house and pisses off the girls. But she doesn't much care. Her biggest struggle in Cancun will be keeping up her relationship back home; luckily Jonna has roommate Derek, her friend and co-worker from Tempe, to keep her in check.
Joey
Age: 22 – Lawrence, MA
Joey is the tall, skinny, tattooed rocker with the bad boy charm. He's relentless in his pursuit of the women in Cancun and hopes to be the first roommate to hook-up. But sometimes being the bad boy isn't so charming. Back home in Massachusetts he was expelled from two different high schools, and eventually dropped out all together. And he's had more than a few bouts with excessive drinking, which will eventually become a problem in Cancun. A guitar player in the pop punk band, Late Nite Wars, his dream is to make it in the world of music. He is passionate about the arts and spends his time drawing, tattooing, writing songs and poetry, and playing guitar. Oddly enough he's also a firm believer in alien takeover, and claims to have actually seen a UFO.
Jasmine
Age: 22 – Friendswood, TX
Don't be fooled by the small package. The five foot tall, ninety-five pound Jasmine has a lot to say and no problem saying it. But despite her hard edge, she wears her heart on her sleeve, leaving it in constant danger of being trampled. According to her friends, Jasmine has the absolute worst taste in men and always chooses unreliable players who treat her like dirt. And things are no different in Cancun. But this former competitive cheerleader thrives to be the center of attention, especially if other women are around, which creates an interesting dynamic among the female roommates, especially Jonna. And she loves to party, but in Cancun, the trick is knowing when to stop.
CJ
Age: 24 – Boca Raton, FL
CJ is the All-American boy, the heartthrob you can take home to mother. A graduate of UMASS, he's currently an NFL free agent punter. He had a great showing recently at the punter tryouts in Las Vegas and is just waiting to hear if he's picked up by an NFL team. CJ says he would be a devout Christian if it weren't for his sexual drive. So how long will he and his girlfriend last once he's exposed to the temptations in Cancun? Not very. CJ takes pride in his hot body. His friends joke about all his hair and skin care products, not to mention how long it takes him to get ready for a night out.
Emilee
Age: 21 – South Hamilton, MA
Emilee is a sensitive girl who can let her emotions get the best of her, but as the daughter of therapists, she is also on of the few people in the house who is looking to learn and grow and change as a result of every new situation. And while she could probably have any guy she wanted, she's been trying to change her perspective on men, sex, and love. She says she's now looking for love and someone to settle down with. Will she find that in Cancun?
Bronne
Age: 21 – Yardley, PA
Bronne is the resident comic. His high energy, lack of filter, and willingness to do anything for a laugh, make him the life of the party. Nicknamed "Wildcard" for his spontaneity, he will often get naked to just break up fights, or maybe just to show off the physique he gained while on the Penn State varsity boxing team. Although he struggles with boundaries and has a history of pissing off his roommates, behind his outrageous demeanor is a genuine and caring person who always has his friends' backs. His impulsive behavior definitely makes him the one to watch out for in Cancun, where the possibility for trouble awaits him. Oh, and he's the first roommate to make out with a woman old enough to be his mother's older sister.
Ayiia
Age: 21 -- Chula Vista, CA
Ayiiia is the realworldcasting.com winner, who won a spot on the show due to her loyal friends who worked with her to win the contest. Although, Ayiiia is of Mexican descent and speaks fluent Spanish, this is her first extended trip to Mexico. She's definitely one to speak her mind. But sometimes it's with a viciousness that alienates the other roommates. She quickly finds that living in "The Real World" house is much more difficult than she had imagined. Ayiiia is a reformed party girl with a history of drug abuse and cutting. While she is loyal to the ones she loves and claims to be nonjudgmental don't get on her bad side because Ayiiia is the kind of person who will hold a grudge.
Assistant Managing Editor
Kelly joined CinemaBlend as a freelance TV news writer in 2006 and went on to serve as the site's TV Editor before moving over to other roles on the site. At present, she's an Assistant Managing Editor who spends much of her time brainstorming and editing feature content on the site.
Your Daily Blend of Entertainment News
Thank you for signing up to CinemaBlend. You will receive a verification email shortly.
There was a problem. Please refresh the page and try again.