Red Widow Review: ABC's New Drama Has Potential But Needs More Edge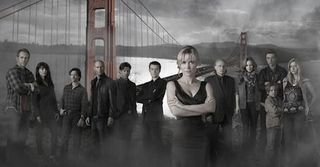 Coming in a bit late in the game and just days after ABC cancelled newcomer Zero Hour is Red Widow, Melissa Rosenberg's adaptation of Dutch drama Penoza. The story follows a woman who's drawn into the life of crime she's been trying to avoid, after her husband is murdered. The first couple of episodes move a bit slowly, which isn't such a bad thing, but for a plot with the potential to be dark and exciting, its introduction isn't really enough of either. It's entirely possible that this is a show that's going to build to a slow boil, and that possibility is reason enough to keep watching.
The series introduces us to Marta Walraven (Radha Mitchell), a dedicated wife and mother living near San Francisco, who also happens to be the daughter of Andrei Petrov (Rade Serbedzija), a man deeply involved in Russian organized crime. It's a life Marta has tried to steer clear of, though she hasn't been entirely successful there. Her husband, Evan isn't exactly a saint either. He makes a fair amount of money exporting marijuana, which is probably relatively tame by comparison to what Marta's family gets up to, but it still puts him on the wrong side of the law. Things take a dark turn when Evan's partner Mike (Lee Tergesen) and brother-in-law Irwin (Wil Traval) approach him about a big score, which involves stealing drugs from dangerous international crime boss, Nicholae Schiller (Goran Visnjic). It's a bad idea, and one Evan wants nothing to do with, but when the situation gets out of his control, he's the one to pay for it with his life.
Evan's murder is part of the mystery, as the murderer isn't revealed to us, and Marta only has some of the information as she attempts to deal with the aftermath and this devastating loss. There's also the matter of the stolen drugs, which requires a confrontation with Schiller, and has the FBI snooping around, led by Agent James Ramos (Clifton Collins Jr.). Marta's plans to further distance herself and her family from this life of crime and life-threatening danger take a drastic turn from there as she's forced (kind of) to take action to fix the situation her husband left behind.
There are layers to this plot, and that in itself gives the series some real potential. We also know a bit more about the situation than Marta does, but we aren't given all the answers, which leaves some mystery to the story, on top of the potential for things to get really exciting as we watch Marta drawn into the this dangerous world she's been trying to avoid. The problem is, while there's a lot of potential, the first two episodes don't really deliver on all of it. I found myself wanting Marta to do something major to prove she's capable of handling the responsibility she's taking on, but it doesn't happen, at least, not in the first two episodes. She's set up as reluctant and concerned for her family, but she isn't a victim. While we do see her dealing with her grief, it's evident that she's strong, which is a definite positive about this character, but considering her family and connections to this dark world, a small sample of what she's really made of would've gone a long way in building the suspense and really selling this story's potential.
With the above said, I still think this series has a lot going for it, and the cast is great, including Mitchell in the lead. There's also a hint of chemistry between her and ER's Goran Visnjic, which could certainly lead to something interesting as their tentative working relationship develops. Red Widow is set up in dark territory, but its bark is a bit worse than its bite from the start which, in this case, isn't a good thing. Whether that's simply the limitations of being a network TV show or the series' attempt to take its time pushing its lead further and further down a dangerous road, remains to be seen. It's certainly worth a look, though, and well suited for Sunday night when Revenge airs. Check out the trailer below.
Red Widow airs Sunday, March 3 at 9:00 p.m. ET on ABC.
Assistant Managing Editor
Kelly joined CinemaBlend as a freelance TV news writer in 2006 and went on to serve as the site's TV Editor before moving over to other roles on the site. At present, she's an Assistant Managing Editor who spends much of her time brainstorming and editing feature content on the site.
Your Daily Blend of Entertainment News
Thank you for signing up to CinemaBlend. You will receive a verification email shortly.
There was a problem. Please refresh the page and try again.