When Reverse-Flash Returns To The Flash, It Won't Be Who We Thought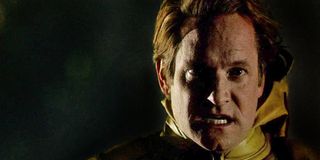 The last time we saw Eobard Thawne on The Flash, he had faded away from existence after his ancestor Eddie Thawne shot himself. Then the news dropped last month that actor Matt Letscher, a.k.a. Eobard in his true form, would appear in Episode 11 of Season 2, and a later preview showed Barry interacting with a fully-garbed Reverse-Flash. Given how definite Eobard's erasure was in Season 1 finale, the most common fan theory was that this is the Eobard from Earth Two. Alas, that is not the case, as this is indeed Earth One's Reverse-Flash, only he's now quite who we got to know last season.
Going over Eobard Thawne's return in the appropriately named "The Reverse-Flash Returns," executive producer Andrew Kreisberg informed EW that fans will see a younger version of the villain who hails from a different timeline. He elaborated:
So just to clarify, the Reverse-Flash we'll be seeing is not the one who was scheming against Barry for all of The Flash Season 1 and trying to get back to his own time, but a younger one who didn't yet get so involved with young Barry Allen's life. This concept should be familiar to fans of Doctor Who. For those who don't know, there's a time traveller on that show named River Song whose meetings with The Doctor occur at different points in their timelines, so a Doctor who had only just recently met River might meet up with an older version of her who knows him quite well, and vice versa. It looks like we'll be getting that same dynamic between Barry Allen and Eobard Thawne.
While it will be interesting to see how Eobard made his way from one timeline to the other, the bigger question now is which timeline did he come from. There was the one from "Out of Time" where Weather Wizard nearly destroyed Central City, but since Eobard still looked like Harrison Wells then, that seems unlikely. That leaves us an Eobard who already has a rivalry with a future version of Flash. The only difference is he didn't yet get permanently stuck in our era. So he'll still be a threat to all the main characters, but he'll be really confused when Barry starts mentioning all the trouble his other self caused last season.
Eobard is such an important villain in the Flash mythos that it's highly unlikely that he'll be killed off (again) after this guest appearance, so if we're lucky, we'll be seeing more of him. Ideally this will also lead to us learning more about Eobard's past as The Flash continues, like how he got his powers and why he hates future Barry so much. Fans of the comics already know his backstory, but the viewers would probably like to be clued in as soon as possible.
The Flash returns with new episodes next Tuesday at 8 p.m. EST on The CW. In the meantime, check out our midseason premiere schedule to find out when your other favorite shows are airing.
Your Daily Blend of Entertainment News
Connoisseur of Marvel, DC, Star Wars, John Wick, MonsterVerse and Doctor Who lore. He's aware he looks like Harry Potter and Clark Kent.