Review: The Glades And Longmire Have More In Common Than You Might Think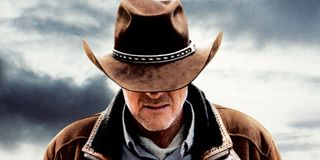 Capping off a long day of grilling and picnicking, and a long weekend of camping, were A&E's two big summer original programming premieres. Now in it's fourth season, The Glades aired a brand new episode on Monday night, followed by the sophomore premiere of Longmire. On the surface, the two have little in common, but through genre and a little fairy dust, the network is making the crime block work.
At 9 p.m. ET, The Glades is snarky, colorful, quippy and able to get a little fanciful with its premises. Set in Florida with onscreen colors that often pop as brightly as CSI: Miami, last night's season premiere offered fans a ridiculous ghost-oriented tale that Scooby Doo-ed out in the end, while still leaving in enough ghostly presence to make believers happy.
There's a reason The Glades has been on the air for so long and doesn't show any signs of stopping. The show's hero, Det. Jim Longworth (Matt Passmore), is a Chicago man who moves to Florida after getting shot in the rear by his former boss, after his boss thinks Longworth is cheating with his wife. Longworth is self-assured and more than a little open about his prowess in the field, but his affection for and endless pursuit of a nurse named Callie (Kiele Sanchez) also makes him a hopeless romantic and gives those who are less into procedurals a reason to get behind the show. There's such a fine balance between personal life content and murder content that it's easy to see why an average of 4.1 million people sat down to watch each episode last year.
At first glance, Longmire doesn't have much in common with The Glades. A&E's sophomore drama is far more hard-boiled and intense than the network's Florida-based series. Set in the wilds of Wyoming, last night's season premiere followed Sheriff Walt Longmire as he traipsed alone into a snowstorm to catch and capture a set of fugitives that escaped from a prison transport. In Longmire, the stakes always seem a little higher, the crimes a little more dangerous, and living itself always seems a little tougher, illustrated in the season premiere by the elements and hypothermia setting in.
Ultimately, Longmire and The Glades are tied by procedural status, but they also complement one another because they are about strong-willed men. Longmire's a tried and true cowboy who hides his emotion but will do anything for those he cares about and Longworth often masks his emotion through jokes and wordplay but steps up his game for the woman in his life. That's still a small thread to tie the two shows together, but in the end, what matters is that both programs work and both programs fit in with A&E's demographic—they are throwbacks to an earlier era of television in which consistently delivering an easy-to-follow product with a clear payoff is more of a goal than reinventing the wheel each week.
New episodes of The Glades will air Mondays at 9 p.m. ET, followed by Longmire at 10 p.m. ET on A&E.
Your Daily Blend of Entertainment News
Reality TV fan with a pinch of Disney fairy dust thrown in. Theme park junkie. If you've created a rom-com I've probably watched it.
Your Daily Blend of Entertainment News
Thank you for signing up to CinemaBlend. You will receive a verification email shortly.
There was a problem. Please refresh the page and try again.