A&E's Sheriff Longmire And Co. Returning For Season 2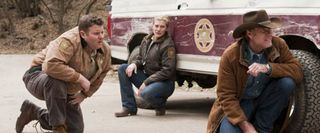 Four weeks in, A&E's mystery drama Longmire still has a few kinks to work out. The score, for instance, is pretty aggressive and the details we get on Sheriff Walt Longmire's former life with his now-deceased wife have been pretty slow to surface. Otherwise the show features a fine enough mystery and a nice, easy pace. Honestly, I've never encountered a mystery show before that I felt was so relaxing. Apparently, A&E feels the show has some good qualities as well, because the network has already decided to commit to more of the series.
On Friday, A&E announced that it was greenlighting Longmire for a second season. Deadline is reporting the show rocked out as A&E's "most watched scripted series debut," pulling in 4.1 million total viewers. The show, has actually done itself one better. Usually after a premiere, a show will lose a few viewers due to lack of interest or time to commit, but Longmire has been unusual in that it has pretty well maintained most of its audience over the past four episodes, averaging 3.9 million viewers, which, for cable, is absolutely nothing to be ashamed of.
If you haven't caught the new A&E drama, it follows Sheriff Longmire as he deals with crime in a desolate but beautiful area of Wyoming. At the start of the show, the Sheriff is still dealing with the death of his life and some vaguely insubordinate employees, one of whom is out to take over his job. The fifth episode of the season will air on A&E Sunday night at 10 p.m. ET.
Your Daily Blend of Entertainment News
Thank you for signing up to CinemaBlend. You will receive a verification email shortly.
There was a problem. Please refresh the page and try again.