Rhett Reese And Paul Wernick Bringing Zombieland To Television?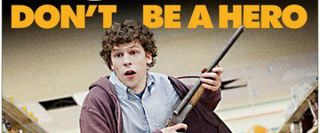 On Sunday night, a record number of cable television viewers tuned in to watch what can only be described as a valiant but ultimately flawed attempt to bring zombies to a weekly television audience. AMC's The Walking Dead, based on the popular graphic novel by Robert Kirkman, is killing it in the ratings but the show itself, well, it needs improvement. Good news, though, there may be another popular zombie series in the next few years with a potential adaptation of Zombieland hitting TV screens.
Although the surprise hit horror/comedy was originally intended to have a sequel (in 3D) the careers of those involved have kind of taken off. Jesse Eisenberg is fresh off his first Oscar nomination for The Social Network, Emma Stone has become a sought-after lead appearing in everything from Oscar bait The Help to comic-book properties like The Amazing Spider-Man. Director Ruben Fleischer is directing a prestige gangster project with Ryan Gosling and Sean Penn called Gangster Squad. However, apparently the film was originally intended for television anyways, so this altered plan makes a lot of sense.
Vulture is reporting that a half-hour series, to be written by the film's scribes Rhett Reese and Paul Wernick, is in the works at Fox Broadcasting and Columbia's off-shoot Sony Pictures Television for a possible debut in the 2012-13 season. The article continues that this move is strangely fitting because the film was originally conceived as a TV show. Zombieland producer Gavin Polone said that CBS ordered a pilot script because "the original plan for this was to make it as a TV show [...] but they did what networks do, which is to take all the good stuff out."
They also included a great quote from Reese (from a MTV News interview last year):
This could be a zombie show that I could actually get behind. Take The Walking Dead, keep the wonderful make-up effects and zombie kills (although, I'm sure Reese and Wernick came come up with a few doozies of their own), and ditch the melodrama for a dark comedic edge. Yes. That sounds great. Now, they just have to find the right actors to fill in as Tennessee, Columbus, Wichita, and Little Rock. That is, unless the show follows an entirely new crew.
Look for Zombieland sometime in the 2012-13 season. In the meantime, get your zombie thrills (and horrible acting, writing, and direction -- but great effects) with The Walking Dead every Sunday night on AMC.
Your Daily Blend of Entertainment News
Thank you for signing up to CinemaBlend. You will receive a verification email shortly.
There was a problem. Please refresh the page and try again.