Ricky Gervais Does An Almost Perfect Francis Underwood Impersonation In Funny Netflix Ad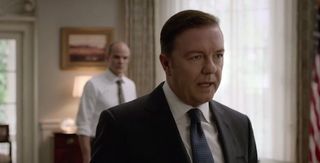 Netflix has enlisted Derek star and creator Ricky Gervais to champion a very amusing ad about the full TV immersion "Superfan" experience. In the video ahead, we see Gervais stepping inside the world of some of Netflix's celebrated original series, among them House of Cards, Orange is the New Black and Lilyhammer. As you might imagine, it's pretty funny! Especially hearing Ricky Gervais deliver a nearly perfect impersonation of Kevin Spacey's Francis Underwood...
Gervais gets his Francis Underwood on in the oval office with Michael Kelly's Doug Stamper. Stamper barely has time to correct Gervais' mispronunciation of "heartbeat" when Gervais is off to interact with Lilyhammer's Steven Van Zandt. And then it's off to prison, where Orange is the New Black characters Crazy Eyes (Uzo Aduba) and Taystee (Danielle Brooks) are waiting to give him a hard time for his accent.
Poor Gervais never even makes it to Derek. Instead, he returns to his living room to enjoy Netflix from a more comfortable, less confrontational space.
Netflix didn't merely post the commercial on their YouTube channel, they also shared some outtakes, one of which addresses Gervais using a Boston accent to say "Haht-beat." There are also some great cuts of Michael Kelly using the call button on the President's desk to call for help...
Not enough outtakes? How about a video that's just Ricky Gervais laughing. Because why not? Get that one after the jump...
Both House of Cards and Orange is the New Black received a number of Emmy nominations this year, including nominations for Outstanding Comedy Series and Outstanding Drama Series. Neither won (Modern Family too Best Comedy, Breaking Bad won Best Drama). But see how House of Cards and Netflix responded to not winning the Outstanding Drama Emmy Award here.
Your Daily Blend of Entertainment News
Thank you for signing up to CinemaBlend. You will receive a verification email shortly.
There was a problem. Please refresh the page and try again.