The Rock Aims To Deliver A Wake Up Call, TNT Greenlights New Series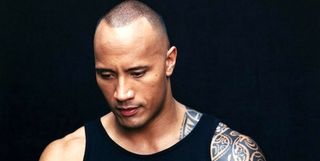 There's no stopping The Rock these days. Beyond his involvement in professional wrestling, Dwayne Johnson has found success on the big screen. He also produces a reality competition series called The Hero, and it looks like TNT is aiming to expand their relationship with The Rock, as they announced today that they've greenlit a new series from Johnson called Wake Up Call (working title), which Johnson will not only executive produce, but also star.
In Wake Up Call, Johnson will help regular people who are dealing with enormous challenges in their lives. From what TNT's David Eilenberg says, the concept for the show evolved from their experience with The Hero, so it's the series' "natural successor" in that regard, "bringing the human spirit of that show home to take on everyday challenges."
Per TNT's description:
Because when the Rock tells you to do it, you do it. Know your role.
Wake Up Call is slated to premiere in 2014. And it's one more thing to add to the Rock's list of upcoming projects. Also on that list is Hercules. Johnson has Tweeted a number of great photos from the set of the film, including this one:
#FiftyShadesOfAttitude indeed.
And showing off his own accomplishments isn't the only thing the Rock Tweets:
Just reading The Rock's Tweet's makes me want to get up and do something. It'll be interesting to see what kind of wake up calls he has in store for the subjects of his new TNT series.