The Ronan Farrow Show Has Been Cancelled By MSNBC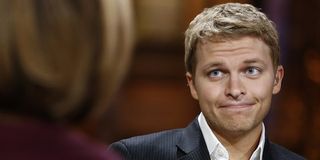 Ronan Farrow, son of famed American actress and fashion model Mia Farrow, was handed the keys to his very own show back on Feb. 24, 2014. Less than a year later, those keys are now being taken back. Yes, folks, that's right. Ronan Farrow Daily has officially been cancelled by MSNBC.
The televised news program hosted by Farrow was (as you and I both probably guessed) not bringing in much of a viewership. According to KSPR, MSNBC pulled the plug on Farrow's show due to "very low ratings." The show, which was airing at 1 p.m. EST, had reportedly fallen to a low of 11,000 viewers in the key 25-to-54 demographic, placing it not only far behind top competing news networks like Fox News, CNN, CNBC & HLN but also behind Al Jazeera America (which has seen average primetime lows of 18,000 viewers).
Farrow doesn't sound all that depressed about the newly-announced cancellation. On the contrary he seems to be pretty optimistic. He sent out a number of tweets to his more than a quarter million Twitter followers, sharing his thoughts:
In response to another tweet, he assured fans he has not yet cashed in all of his chips.
MSNBC also cancelled another of its daytime shows, The Reid Report, also due to low ratings. According to The Wrap, the last two years have not been good for the network. January 2015 saw double-digit declines over the previous year in all ratings measurements. These latest cancellations reflect the networks attempt to turn their numbers around. With a 20% decline in viewership numbers and a 37% dip in the 25-54 demographic, it looks like they'll have their work cut out for them.
There is no word as to what Farrow's next move will be as far as ongoing gigs. Could he charm his way into a bit part in a Woody Allen (his legal father) film? It's likely that ship has long sailed. Farrow did recently take part in a PBS documentary series, appropriately titled A Path Appears, of which his mother Mia, Jennifer Garner and Malin Akerman also appeared, tackling some of the issues facing the world today.
Your Daily Blend of Entertainment News