Russell T. Davies Bringing Gay Men Back To Showtime?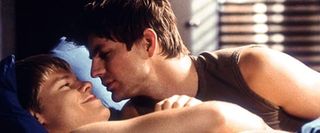 Russell T. Davies brought the original BBC series Queer as Folk to Showtime back in the 1990s, when gay characters on TV were still hard to come by and Ellen's leap from the closet was big news. Showtime followed up the hit series with The L Word, a show that probably drew as many viewers for gratuitous girl-on-girl action as it did for the storylines involving the dramatically intertwined lives of a group of sexy and glamorous lesbians living in Los Angeles. Hot on the heels of The L Word's departure from the lineup came The Real L Word, which added reality TV voyeurism to the concept. So no, Showtime is not new to the gay-centered drama, and they have never shied away from putting the sex lives of their characters front and center.
Enter Cucumber, the eyebrow-raising name of the new series Davies has in development with Showtime. The Torchwood: Miracle Day creator is back to bring us more intimate views of the lives of gay men. While details are few and far between on the series itself and it is still in the early stages of development, my money is on this one making it to Showtime's lineup, especially if it follows the lead of The L Word with plenty of skin -- and with a name like Cucumber, who would be surprised? If Showtime's history has taught us anything, it's that they love series that feature gay people and naked people, so both at the same time has to be Showtime gold. And with Davies behind it, the show is already off to a good start.
Your Daily Blend of Entertainment News