Ryan Seacrest Signs Deal With NBCUniversal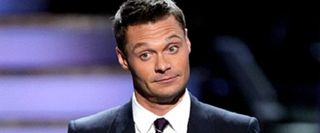 I'm beginning to suspect Ryan Seacrest has a twin we don't know about, or perhaps has uncovered the secret of cloning himself. How else could he take on so many jobs and not collapse? Seacrest signed the much-rumored new deal today with NBCUniversal that cements his position with them for another two years and adds even more to what has to be a monumental to-do list. Does he ever sleep?
Seacrest's new deal, according to EW means we'll be seeing even more of him on NBCUniversal programming. He's already joined the Olympic coverage team and today's announcement places him in gigs from acting as a correspondent for Today to appearances on NBC's other news, sports, and entertainment programming. He'll also remain on for the red carpet on E!, and will continue as managing editor of E! News.
He's also still working over at Fox, being the cross-network man that he is, and just signed a new two-year deal to continue in the role that made him a household name on American Idol. He recently hosted the Fox 25th Anniversary Special. And he's still hosting a morning radio show on KIIS-FM. When the man sleeps, I have no idea.
Seacrest is quickly becoming the go-to host for multiple networks; with the sad news of Dick Clark's passing recently, I won't be surprised if Seacrest – who has been co-hosting the last few New Year's Eve shows – officially steps in Dick Clark's shoes come New Year's Eve for ABC's New Year's Rockin' Eve. What else is Ryan Seacrest capable of? Well, he doesn't seem capable of slowing down, that's for sure.
Your Daily Blend of Entertainment News
Your Daily Blend of Entertainment News
Thank you for signing up to CinemaBlend. You will receive a verification email shortly.
There was a problem. Please refresh the page and try again.