SVU Top Cops Arrest Super Salaries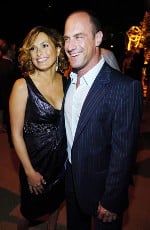 It appears Detectives Stabler and Benson may have broken into Dick Wolf's home and "talked" a little sense into the famed TV producer. Both 'Law and Order: SVU' super stars Mariska Hargitay and Christopher Meloni just signed deals for a huge pile of dough. How huge? Like something in the neighborhood of $330,000 per episode per actor, or roughly $7,000 per minute of screen time. Looks like someone's kids are going to private school.
The new package now makes Hargitay the highest paid actress on TV, and makes Meloni one of the richest TV actors as well. Last year the dynamic duo of dollars earned Emmy nominations, with Hargitay walking away with an award for best actress in the drama series.
Says producer Dick Wolf, "Obviously, I'm thrilled that Chris and Mariska have decided to stay with a show that they've made an indelible stamp upon as we move into our ninth season." Right Dick, like Det. Stabler didn't make you promise to say that when he had you pinned on the ground and begging for mercy.
According to sources at NBC as reported on TV.com, the show's producers made some moves in consideration of replacing Meloni as the male lead, but eventually chose to keep the cast intact. And it's a good thing too, as many fans have come to view the characters in the uber-popular 'Law and Order' spin-off as somewhat of a family since its initial debut in 1999.
'Special Victims Unit' airs Tuesdays at 10 PM ET on NBC, with new episodes set to return on February 6. For now, check out this awesome and quite dramatic clip of Hargitay in all her Emmy-quality glory in the climactic scene from the episode "Charisma:"
Your Daily Blend of Entertainment News
Thank you for signing up to CinemaBlend. You will receive a verification email shortly.
There was a problem. Please refresh the page and try again.