Savannah Guthrie Will Be Ann Curry's Replacement, If They Ever Work Out A Deal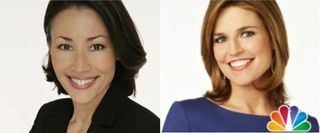 As you've undoubtedly been hearing lately, Ann Curry is almost certainly on her way out as co-host of the Today show-- and according to some stories, is negotiating for a huge payday to give NBC the privilege of letting her go. Now TMZ, which must have some ridiculously well-connected sources within NBC, reports that Curry is holding out for the $20 million that remains on her three-year contract, even though the studio is trying to talk her down to the $10 million that was previously reported.
And while all this happens, Curry's replacement is right in her midst at studio 1A. TMZ says that what has been widely rumored is true-- Savannah Guthrie, currently in the news reading position that Curry held for years, has been picked as Curry's replacement, and NBC wants to get her in co-host position quickly so she can be on board in time for the Olympics, which get started in late July. The Olympics are a huge, huge event for NBC, and there would be no better way to establish Guthrie as their new face of morning news than to have her as co-host by then-- and, if they're ditching Curry for low ratings, maybe no better way to goose their viewership either.
You never know quite how to feel when you see wildly rich people like Ann Curry, or Conan O'Brien before her, getting tossed out of their dream jobs; it's hard not to feel sorry for someone getting dragged through mud like this publicly, but then, worst case scenario for Curry is she gets $10 million and a foreign correspondent job at NBC. Mostly it's the network who comes off worst in this, letting it all play out in public so soon after the Conan/Jay Leno debacle. I know they're never exactly going to offer me the Today show co-hosting job, but after watching something like this play out, I'm not sure I'd want it anyway.
Staff Writer at CinemaBlend
Your Daily Blend of Entertainment News
Thank you for signing up to CinemaBlend. You will receive a verification email shortly.
There was a problem. Please refresh the page and try again.