Ann Curry Reportedly Earning $10 Million To Be Replaced On Today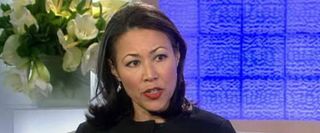 In the wake of bad press and fans of Curry petitioning to keep the reporter on Today, NBC has been sluggish about making any sort of decision about when and how to fire Curry, as well as what to do with her after she leaves the show. There is a likelihood that, due to the 55-year-old's competence with disaster stories, she will be given a foreign correspondent role with NBC. Now, reports are stating if she does take the downgraded position, she will still receive extremely high compensation.
When Curry moved into a main role with today a year ago, she signed a 3-year contract that was reportedly worth a cool $20 million. The last year of her contract was supposed to pay out $10 million dollars, and TMZ is reporting the latter is the number NBC is expected to shell out to move Curry away from her "dream job."
Those numbers are not quite as bad as similar blunders—as in the Conan/Leno fiasco--NBC has shelled out mad money for in the past, but the network does not seem to be very good at gracefully removing employees without fiasco. At the end of the day, Curry may not have been the best Today host (let's be honest, she's not even in the top five), but being unceremoniously dumped, being stuck in the middle of a media brouhaha, and then being forced to go back to her more humbling roots is not something the journalist deserves. There were more tactful ways to handle the situation and I'm not certain $10 million dollars will even soften the blow.
Your Daily Blend of Entertainment News
Thank you for signing up to CinemaBlend. You will receive a verification email shortly.
There was a problem. Please refresh the page and try again.