Saved By the Bell, Knight Rider, Miami Vice and More 80s TV Shows Get New Life as Digital Comics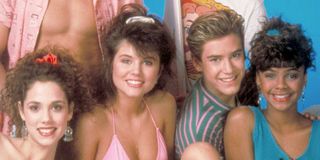 If you're a child of the 1980s and were a fan of disparate programming such as Knight Rider, Saved By the Bell, Airwolf, Miami Vice and Punky Brewster, there's now a way to follow the latest adventures of your favorite TV shows without scouring YouTube for fan series: comic books. NBC is partnering with comic book company Lion Forge to create digital comics of some of its more popular programs.
"Partnering with the team at Lion Forge to bring classic TV properties to life in graphic novel format was a natural step for us as we continue to identify new ways to entertain our fans in the digital space," said Chris Lucero, director of Global Consumer Products Licensing for NBCUniversal Television, in a statement (via Newsarama). "We're excited to give fans a chance to revisit some of their favorite shows and characters in a completely new way."
The partnership is certainly a coup for the upstart digital publisher, based in St. Louis, MO, which will be responsible for writing, drawing and publishing the comic books. "From hugely popular characters such as Crockett and Tubbs, Zack Morris and Punky Brewster to highly stylized music and clothing choices, these TV franchises have had a significant impact on pop culture," said Lion Forge CEO David Steward. "We here at Lion Forge are looking forward to extending that influence by creating visually appealing and entertaining experiences on mobile devices for a whole new generation of fans."
That last statement would seem to indicate that Lion Forge is hoping to bring in a younger demographic than simply those nostalgic for their favorite shows of yesteryear, though, clearly, the company will have to look — at least, initially — at targeting those who used to watch the shows as kids. That is, unless Airwolf has been discovered by a whole new generation of fans who know of Miami Vice as a TV show instead of the 2006 movie.
The writers on board for the venture include Joelle Sellner (Teen Titans); Jonathan London (Geekscape); Geoffrey Thorne (Leverage, Ben 10) and David Gorden (Catalyst Prime: Accel) while some of the artists attached to the project include Jason Johnson (Wetworks) and Lion Forge's Carl Reed and Lorenzo Lizana. Excited to see what's next for Punky Brewster, Crockett and Tubbs, and high-tech helicopter pilot Stringfellow Hawke? The books will be available later this year through outlets like Amazon Kindle Bookstore, Kobo, Barne & Noble's Nook Book Store and Apple's iBooks. However, hardcore Saved By the Bell fans can read some fan fiction here and Knight Rider fans can buy a Glen Larson-penned book here (opens in new tab).
If you have no recollection of the awesome-ness that was Airwolf, watch an extended opening credits sequence below.
Your Daily Blend of Entertainment News
Thank you for signing up to CinemaBlend. You will receive a verification email shortly.
There was a problem. Please refresh the page and try again.