Scandal Gets The Telenovela Treatment In Jimmy Kimmel Escandalo Spoof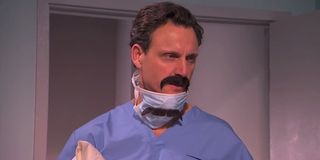 Oh that Jimmy Kimmel — he sure does know a thing or two about making funny viral videos doesn't he? Sketches, skits, and all-around ridiculousness seem to rule the late night funnyman's show, Jimmy Kimmel Live, and his latest collaboration with the cast of ABC's Scandal is no different. By turning the Shonda Rhimes series into a Mexican telenovela called — wait for it — ¡Escandalo!, the show gets the slightly more melodramatic treatment it deserves (but only slightly). I mean, it is the most ridiculous show on television after all: but don't worry, we say that with love.
For Kimmel's version of the series — which has grown increasingly popular internationally — he enlisted the series' actual actors to create a telenovela masterstroke. It goes without saying but Kimmel clearly has this all handled. Following a first installation that premiered after the show's mid-season return on February 27th, this week's new episode of the series required a second (and soon-to-be third) installment of the ¡Escandalo! saga as well. The first video, featuring the likes of Quinn and Mellie, focuses on a lovers' quarrel involving a veritable smorgasbord of poison darts (is that a thing people do still?) and a window jump from our epic El Presidente, Guillermo.
This week, thank goodness, we were treated to the second installment of ¡Escandalo! (Man we really, really enjoy typing that. Almost as much as we enjoy saying it aloud), which spent the majority of its time making fun of President Fitzgerald Grant's infamous Court Justice-snuffing scene (oh, Verna!) from season one. With not one but two mustaches (the sign of a true man, natch), Fitz turned his smothering pillow trick on El Presidente, but not before the leader could strike back — killing not only Fitz but that soup slurping fiend David Rosen. See what we mean? ¡Escandalo!. Watch the second installment below:
And yes: it seems there will be another installment to come (oh joy!), with Cyrus and Olivia Pope herself getting in on the hyperbolic and melodramatic action. Apparently it's going to involve a pool? As if we needed another reason to be overly enthusiastic about Thursdays. We're never going to have a Thursday night social life again: what an ¡escandalo!
Your Daily Blend of Entertainment News
Thank you for signing up to CinemaBlend. You will receive a verification email shortly.
There was a problem. Please refresh the page and try again.